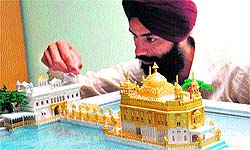 City-based paper artist Gurpreet Singh, creating art from varied items, moulding paper into exciting and interesting pieces of art for 11 years, has a whooping 13 international and seven national records to his credit.
The artist, an interior designer by profession, is probably among very few specialised paper artists in Punjab. He has created a miniature replica of the Golden Temple, Taj Mahal and the White House among others and has recently created a replica of the Great Wall of China to commemorate the May Day.
"It was a significant landmark and I wanted to commemorate the amount of labour put into constructing it," said the artist.
This is not the first piece of perfection from the 31-year-old artist. Gurpreet's earlier works include miniature models of Nankana Sahib, the smallest turban weighing seven grams and other symbols of Sikh heritage.
"My aim is to promote the culture and heritage of Sikhism through my art. I have displayed my work at various art exhibitions and festivals across the country and my works have been appreciated," he says.
He feels that more should be done to promote the art. "There are some 115-odd paper artists in the world and most are from South Asia. The famous Chinese paper art is all about cutting the paper into various patterns but a lot of Indian artists specialise in creating things out of paper. This should be encouraged," he says.
For his miniature version of the Golden Temple, Gurpreet has installed it with lights and live gurbani. "I am playing with the idea of putting electronic Gurbani and lightings so as to give it an authentic appeal," he says. He wishes to display the replica at the upcoming museum inside the Darbar Saheb premises.
Tribune News service, Amritsar, May 3