The
SIKH NUGGET
presents the annual round up of the Holla Mohalla Celebrations for 2013.
Nihangs show their Tent pegging Skills at Anandpur Sahib.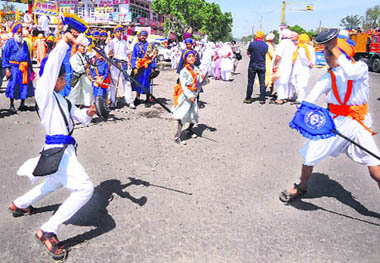 Boys perform Gatka during a holy procession near Keshgarh Sahib Gurdwara.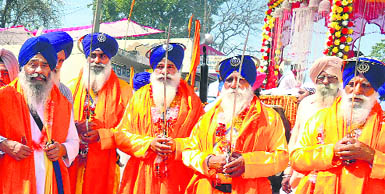 'Panj pyaras' lead Nagar kirtan at Anandpur Sahib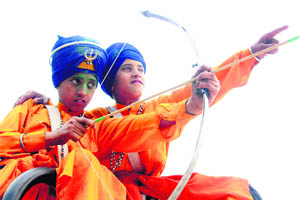 A Sikh boy practice his Archery Skills at Anandpur Sahib
A magnificent display of horse riding and martial art skills by thousands of Nihangs marked the last day of the six-day historic Hola Mohalla festival at Anandpur Sahib. Over 30 lakh devotees paid obeisance at various gurdwaras during the festival, which started on March 23 at Kiratpur Sahib after which the celebrations shifted to Anandpur Sahib on March 26.
The most significant event of the festival was the procession of Nihang groups belonging to the Budha Dal, Harian Velan, Tarna Dal and others. The procession began from Takht Sri Kesgarh Sahib gurdwara at 2 pm. Nihangs exhibited their horse riding and martial art skills and sprayed Holi colours on the people all along the way. The procession halted for a while at gurdwara Kila Anandgarh Sahib at Agampur before it concluded at the Charan Ganga stadium where the Nihangs again displayed their skills. Baba Budha Dal distributed prizes and cash rewards among the winners.
Earlier, the bhog ceremony of "akhand paths" was performed. Akal Takht Jathedar Giani Gurbachan Singh delivered his message to the masses urging them to fight social evils like drug addiction and female foeticide.
Reporting by Tribune India.
Also see