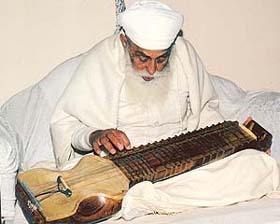 OBITUARY: He promoted classical music in Punjab
by Vandana Shukla
With the demise of Satguru Jagjit Singh, Punjab has lost its sole promoter of Hindustani classical music. Satguru, himself an accomplished vocalist, percussionist and instrumentalist, never sought a career in music. Instead he became a music patron.
It was at Bhaini Sahib, the commune of the Namdharis near Jalandhar, that the Satguru introduced a model for research, conservation and propagation of classical music that finds no parallel in the country.
He encouraged the young to pursue classical music by creating a certain ambience at the dera (commune).The young would wake up to the recitation of Asa ki vaar to the accompaniment of pure tantri vadya (stringed instruments). At least,150 children received training in classical music free of cost at the dera round the year.
For the young who attended regular school, special classes were organised in the evening, food was made available to them round-the-clock. Instruments were customised so that the children could surfeit difficult permutations of tala and ragas.
From among these children, the Satguru would pick the gifted ones and sent them for training under maestros. "Music is an integral part of the Sikh religion. He took upon himself the responsibility of keeping its purity in tact, and he did it with dedication, himself being such an accomplished musician," says Pt Shiv Kumar Sharma.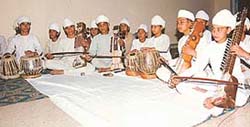 Children being initiated into the music tradition.
Research and archival work on traditional knowledge of music, that should have been taken up by universities, the government and research institutions, was carried out by the Satguru with unfailing dedication.
"He proved by example that the path to spirituality is paved with music," adds Pt Sharma. He re-discovered several musical instruments and re-introduced talas and ragas lost to time.
He created an unusual ability among the commune inhabitants to understanding the finer nuances of classical music. The Satguru himself was known as a wizard of Punjab pakhawaj. "Even the likes of Ustad Alla Rakha, Pundit Kishen Maharaj and Shanta Prasadji would be amazed by his brilliance in tala.
Many masters have played half matras, but the Satguru had mastered even savaya and pauna matras ,(one and a quarter and three fourth of a beat) a miracle in percussion," says Rajan Mishra of the famous Rajan Sajan Mishra brothers. The vocalist brothers remain indebted to the Satguru for his help and guidance in their pursuit of music
Young gifted musicians from the dera, who were sent to masters like Pt Hari Prasad Chaurasia, Ustad Zakir Husain, Pt Shiv Kumar Sharma, Pts Rajan and Sajan Mishra, Ustad Amjad Ali Khan, late Ustad Vilayat Khan and Pt Birju Maharaj, returned to share their knowledge with other budding talents in India and abroad.
" He was honoured as the Fellow of Sangeet Natak Akademi last year. He was a renaissance man who could play several instruments. He was a master of the Dhrupad gayaki, he sent young students to all gharanas to create a confluence of music. Mighty governments could not do what he did for music, to keep the richness of our great heritage of music alive," says Kamal Tewari, Chairman, Chandigarh Sangeet
Tribune India, Chandigarh, December 14