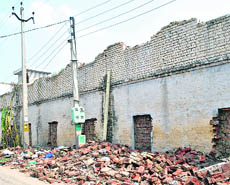 A partially damaged boundary wall of the Government Elementary School inside the Dukhnivaran Sahib gurdwara in Patiala.
The Education Department and the Shiromani Gurdwara Parbandhak Committee (SGPC) have locked horns over construction of a dharamshala in the historic Dukhnivaran Sahib gurdwara.
While the SGPC wants the dharamshala to be constructed on the land in the gurdwara from where the Government Elementary School is running for the past five decades, the Education Department has termed the move completely unjustified.
The gurdwara management has written a letter to the District Education Officer (DEO) to vacate the building as they want to construct a dharamshala there. In fact, the management has even got some parts of the boundary wall razed to send a message that the school authorities will have to vacate the land as it belonged to the SGPC.
Talking to The Tribune, DEO Balbir Kaur Gill said the management had sent a letter to them last year asking them to vacate the school building on the pretext of repair but later, they met the then Deputy Commissioner Vikas Garg who got the issue resoloved. "But now, we have again received a letter stating that they want to construct a dharamshala at that place and therefore we should immediately vacate it. We have met Additional Deputy Commissioner (ADC) Anandita Mitra in this regard today and she has assured me that she will take up the issue with the gurdwara management," she said.
Sources in the Education Department said the management had even tried to demolish the boundary wall of the school a couple of days ago but later stopped the demolition on the request of the teachers. The teachers requested the management to wait for sometime and reported the matter to the DEO, who is now taking up the issue with the district administration, he said.
Despite repeated attempts, SGPC president Avtar Singh Makkar could not be contacted. But, Dukhnivaran Sahib gurdwara manager Jagir Singh said they wanted to reconstruct the entire building, as it was unsafe.
The manager said, "A long time ago, we had given them a part of the dharamshala to run the school but now we want it back."
"Despite repeated requests, the Education Department is not responding to our letters. We have even informed the district authorities about it. We will try and re-adjust these students at some other place but the Education Department should first vacate the school building," he added.
Meanwhile, ADC Anandita Mitra said she would take up the issue with the gurdwara management on Monday.
"The Education Department does not own the land but it has been running the school for the past over five decades. We will, therefore, try our best to get the matter amicably resolved as it involves the interest of students," she added.
Gagan K Teja, Tribune News Service, Patiala, July 13