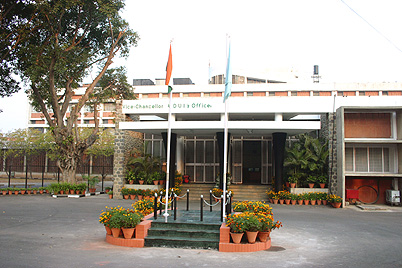 Digitisation to be completed in two phases, with the first phase to be over by year-end.
Poring over rare manuscripts and books preserved at the Panjab University's, Chandiarhs A C Joshi library will be possible for everyone around the world just at a click of the mouse, thanks to digitisation.
Initiating the process of digitisation a few weeks ago, officials have completed scanning of nearly 700 out of the total of 1,492 manuscripts. They aim at completing the process by the end of this year."In the first phase, we will complete the scanning of the manuscripts. There are many such manuscripts which are too old and delicate. Therefore, it is important to handle them with additional care. Due to this, the process often consumes a lot of time. We will begin scanning of books in the second phase," said chief librarian Raj Kumar. The second phase is likely to begin next year.
Recently, a proposal was also mooted for the purchase of high-power scanners in order to capture better-quality images and enhance the scanning speed.The library, which has preserved over 20,000 books with most of them being published in the 17th and 18th centuries, has also procured a rare collection of holy books. These include a Bhagwad Geeta booklet composed of rice, Quran and Ramayana.
The manuscripts are available in a number of languages, including Arabic, Persian, Devnagri, Gurmukhi, Sanskrit and Sharda, which were commonly used during the 17th and 18th centuries. The oldest manuscript in the library is Siraj-ul-Salikin, which dates back to 995 AD.
While digitisation would help conserve the printed heritage for future generations as physical browsing of books and manuscripts may damage them, it would do away with mending, repairing and binding of the rare collection. Digitisation would also help library-users and book-lovers save time since they would not be required to go to the library to refer to the rare collection.
The rare collection of the nearly 50-year-old library was thrown open to public at a two-day exhibition two weeks ago. The rare books displayed included History of the World, published by Adam Phillip, London, which is the oldest rare book in the library. It was published in 1634.
Ritika Jha : Chandigarh, Fri Apr 27 2012