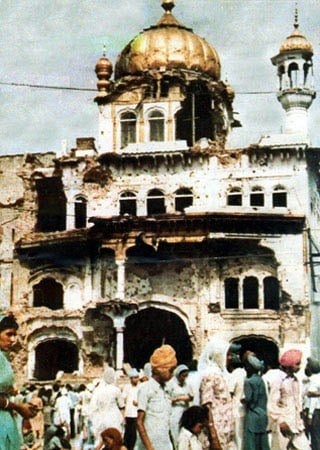 Aftermath of Operation Bluestar: The heavily destroyed Sri Akal Takht Sahib
AMRITSAR: While Sikh intellectuals have favored construction of a memorial to Operation Bluestar that should not conflict with architectural harmony of Sikhs' holiest shrines, on the other hand Sikh radicals have suggested a gallery or panorama depicting the scenes of fight over another gurdwara or a towering monument.
The issue assumes significance since the report of a five-member sub-committee constituted by the SGPC to make draft proposal for the shape and location of memorial would be presented in an executive committee meeting on May 3.
Another parallel committee constituted by Sikh radical organizations, including Dal Khalsa, Shiromani Akali Dal (Panch Pardhani), Khalsa Action Committee and Panthic Sewa Lehar on the same issue would submit their report to the SGPC on Tuesday.
"The memorial should not in any way disturb harmony of architecture of Golden Temple and construction of another gurdwara within the gurdwara is not advisable," said professor in Guru Nanak studies of Guru Nanak Dev University Balwant Singh Dhillon while talking to TOI on Monday.
Reacting to the reports of construction of a towering minaret-like structure, he said there were already two bungas which were similar structures. It would only conflict with the harmony of the shrine.
"It is yet to be seen whether they construct a separate museum dedicated to those who had died during the Army's operation in Golden Temple or a library," he said.
The suggestion of construction of minaret-like structure was earlier floated by former SGPC president Bibi Jagir Kaur, who is now in prison, and most recently by former Golden Temple granthi Jagtar Singh Jachak. Jagir Kaur had suggested construction of the memorial in front of the langar hall.
Sources closely associated with the sub-committee said that since most of the members of both committees were in favor of memorial in circumambulation so construction of a towering structure was not possible. "We have favored depicting scenes of Sikh leaders fighting the Army," said the sources.
Yudhvir Rana, TNN | May 1, 2012