Twenty eight years after the Army stormed into the Golden Temple Complex and 10 years after the SGPC first passed a resolution supporting it, the foundation stone of Operation Bluestar Memorial was today finally laid by Sikh high priests in the presence of SGPC president Avtar Singh Makkar and Damdami Taksal chief Baba Harnam Singh.
Thousands of activists of various Sikh organisations as well as devotees converged in the Golden Temple Complex for the launch of "kar sewa" of the memorial in the morning. Addressing a gathering on the occasion, SGPC chief Avtar Singh Makkar said the memorial had been a long pending demand of the Sikhs and the Sikh leadership was well aware of the community's sentiments.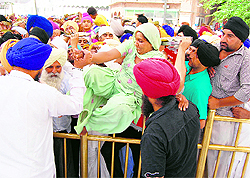 Reacting to various organisations' resentment against handing over "kar sewa" to the Damdami Taksal, he said it was always easy to point fingers but difficult to accomplish a task. He said various Sikh organisations and personalities engaged in "kar sewa" were supporting Baba Harnam Singh in his effort. He appealed to the Sikh Sangat to donate generously for the construction of the memorial.
Akal Takht Jathedar Giani Gurbachan Singh also justified the SGPC move to give "kar sewa" to Baba Harnam Singh. He cautioned the community to donate funds for the memorial only to Baba Harnam Singh and to no one else. "We have neither set up any 'golak' nor authorised anyone to collect funds for the purpose," he said.
Later, Makkar and Sikh high priests presented a 'siropa' to Baba Harnam Singh. The Sikh clergy, Makkar and Baba Harnam Singh laid the foundation stone of the memorial around 10 am. The funds for the memorial started flowing in even before the foundation stone was laid. A list of donors was read out at the ceremony. Kamaldeep Kaur, whose brother Balwant Singh Rajoana is on death row in the Beant Singh assassination case, also donated Rs 1 lakh.
How the monument will look
The two places that were projected as the memorial site over the last few days will actually be integrated to form one complete structure
These two locations are the left wing of the building adjacent to Miri Piri and the basement right next to Gurdwara Thara Sahib
The SGPC's official architect for the project, Inderbir Singh Walia, says the memorial will house a gurdwara that will be constructed atop the basement adjacent to Gurdwara Thara Sahib
The left wing of the building close to Miri Piri will only serve as an entrance to the gurdwara (memorial)
The area of the gurdwara, with a dome atop it, will be 31x31 feet whereas its height will be 19 feet
Marble with "meenakari" will be used both inside and outside the memorial building
How things shaped
February 20, 2002: The SGPC passes a resolution to build Operation Bluestar Memorial
May 27, 2005: A special SGPC executive meeting, held at Anandpur Sahib, unanimously resolves to build the memorial
June 6, 2011: The SGPC constitutes a five-member committee to prepare the blueprint of the memorial
May 3, 2012: SGPC gives its final consent to the memorial, hands over "kar sewa" to Damdami Taksal chief Baba Harnam Singh Khalsa
Perneet Singh/TNS, Amritsar, May 20