SGPC to put rare artefacts on display: Devotees earlier had to wait for gurpurab to catch a glimpse of these precious items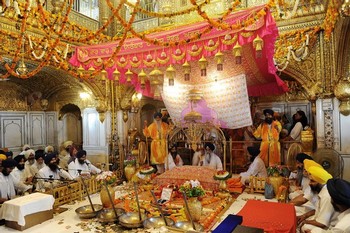 A view of 'jalau' (show of splendour) at the Golden Temple.
With the SGPC planning to put rare artefacts and invaluable gifts from the Golden Temple's 'toshakhana' (treasure) on public display at the shrine in near future, the pilgrims now would not have to wait for a special occasion like gurpurab to catch their glimpse.
The SGPC chief, Avtar Singh Makkar, said they were planning to exhibit these rare artefacts in the 'parikarma' of the Golden Temple. Though he did not specify, it would most probably be showcased in some of the rooms located along the veranda in the 'parikarma'.
Makkar said the pilgrims visiting the holy shrine have long been demanding that they be facilitated the 'darshan' of these artefacts whenever they visit Sri Harmandar Sahib and not just on special occasions. He said the matter had already been discussed in the SGPC executive and now it would be forwarded to the Sikh high priests for seeking their approval.
The SGPC secretary, Dalmegh Singh, said they will first ensure digital recording of the artefacts kept in the 'toshakhana' before putting them on display. He said they will also tie up with a top security agency to make sure stringent security was in place for the display. He said these artefacts had never been displayed in this manner.
Last year, the issue was raised by Rajya Sabha MP Tarlochan Singh
. "The decision to exhibit them permanently in the 'parikarma' of the Golden Temple will make the devotees aware of the invaluable articles gifted to our holy shrine," he said today. He said security should not be an issue when measures like bulletproof glass and ultramodern security gadgets were available these days. He also stressed on proper preservation of these artefacts.
At present, these artefacts and gifts are displayed during "jalau" (show of splendour) on six 'gurpurabs' in a year. During these occasions too, the time for "jalau" is restricted from 8 am to 12 noon. Apart from these 'gurpurabs', the "jalau" was held on three special occasions so far. The first was in 1965 when sacred relics and arms of Guru Gobind Singh were brought from the United Kingdom, the second on the conclusion of kar seva in 1973 and the last in November 2001 when they were displayed in bullet-proof boxes for three days to mark the bicentenary of coronation of Maharaja Ranjit Singh.
As per "Sri Harmandar Sahib da Sunaheri Itihas", a book penned down by Giani Kirpal Singh, during "jalau" 44 such items are put on display at the sanctum sanctorum, nine at the Akal Takht and six at historic Baba Atal Gurdwara.
The 'toshakhana' boasts of invaluable possessions like necklace of diamonds and pearls of Kunwar Naunihal Singh presented by Maharaja Ranjit Singh, jewel-encrusted 'kirpan' of the Maharaja, a ring of Princess Bambah, gold canopy, gold and turquoise peacock, gold necklace made of currency notes of Guru Nanak Dev, golden spades and containers presented during various 'kar sevas', gold 'bir' of Baba Deep Singh and four pairs of ornate doors.
Treasure trove
Diamond necklaces, n Kunwar Naunihal Singh's pearls, Jewel-encrusted 'kirpan', A ring of Princess Bambah, Gold canopy, Gold and turquoise peacock, Gold necklace made of currency notes of Guru Nanak Dev, Golden spades and much more
Perneet Singh, Tribune News Service, Amritsar, April 21