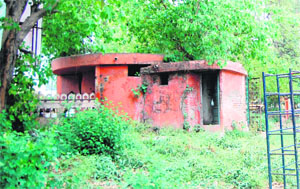 The deplorable condition of public toilets at Company Bagh in Amritsar.
The visitors to the historical Company Bagh are often seen urinating along the periphery walls as they avoid going to public urinals because of the filth and unhygienic conditions prevailing inside these.
The Company Bagh, belonging to the era of Maharaja Ranjit Singh, is visited by hundreds of visitors for recreation and exercise. The entrance to the washrooms near the gate on the Mall Road is covered with filth as a consequence of which people avoid using it.
The urinals near Maharaja Ranjit Singh Panorama are in such a pathetic condition that weeds and small trees have grown in the cracks in front of the entrance. The visitors rarely enter these washrooms because of the old looking and shabby structure.
Though the male visitors are often seen relieving themselves along the outer walls, the female visitors don't have a place for them. "The garden should have neat and clean washrooms. If the administration feels like it can even charge a fee for using the urinals, but the facility should be provided," said Surjit Singh, a daily visitor.
Visitors said the bagh was visited by foreigners as well as tourists from other states. "It does not look nice when people urinate in the open. However, even the visitors do not have an option. The administration just needs to ask the safai sevaks to do their work properly," said another visitor, Ram Narayan.
As the bagh is under renovation and workers are busy paving concrete paths all over it, residents said washrooms would be an added asset. "The administration is installing benches for visitors to sit, paving concrete paths for them to walk and doing so many other things. It should also pay some attention to the basic needs of drinking water and washrooms," said Shruti Sharma, a student.
Manmeet Singh Gill, Tribune News Service, Amritsar, April 13