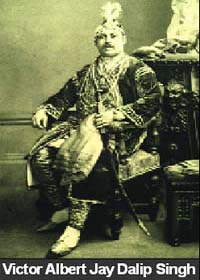 An unusual weapon specially made for the eldest son of Maharaja Dalip Singh will go under the hammer here on April 4. Commissioned for Prince Victor Dalip Singh when he was all of 15, the .12 bore hammer gun was made by J. Purdey and Sons. Bonhams auctioneers have put its price between £2000 and £3,000.
The gun is thought to have been used for many of the shooting parties that were hosted by Dalip Singh at his country estate of Elveden in Norfolk, which was sold to the Earl of Iveagh in 1894 after Dalip Singh's death in Paris.
Victor, like his younger brother Frederick, was one of the best shots of his day. British records show how the two brothers hosted a shooting party at Elveden in the early 1890s when they bagged 846 partridges before lunch, stopping only because they ran out of cartridges.
Born in 1866 and baptized at the royal chapel in Windsor, Victor's full name was Victor Albert Jay Dalip Singh. He was the eldest son of Maharaja Dalip Singh and godson of Queen Victoria.
Raised on his father's estate at Elveden in Norfolk, he was educated at Eton and Trinity College, Cambridge, before attending Sandhurst military college under a special Cadet-ship in 1887 after the personal intervention of his godmother (Indians normally being disqualified from attending). Later, he was commissioned as a Lieutenant in the 1st (Royal) Dragoons, and by 1889 he was based at Halifax, Nova Scotia as Honorary Aide-de-Camp to General Sir John Ross, then commander of forces in British North America.
In 1894, the same year he was promoted to Captain, he married Lady Anne Coventry, the youngest daughter of the 9th Earl of Coventry and whom he had first met while at Cambridge. The marriage was made possible through the intervention of the Prince of Wales, later Edward V11 and the wedding at St. Peter's Church in Eaton Square was attended by Queen Victoria herself.
One of Victor's best friends was George Herbert, 5th Earl of Carnarvon, whom he first met at Eton and who shared his love of shooting and gambling. In Lord Carnarvon's game book for 1895, both brothers are recorded shooting grouse alongside him at Delnadamph Lodge (part of the British royal family's Balmoral estate in Scotland) throughout August, before returning to Carnarvon's estate, Highclere, to start shooting on September 2, with 51 days of partridge shooting over the next three months and many of the parties consisting only of Carnarvon and Victor, accompanied by Lord Ashburton.
An all-time record three-day bag was recorded in late November, with a total bag of 10,807, including 5,671 pheasant, 16 partridges, 43 hares, four woodcock, 5,033 rabbits, and 40 various. The guns were Lord Carnarvon, both Victor and Frederick Dalip Singh, Earl de Grey, Lord Ashburton and others.
Victor's problem was his addiction to gambling. Documents seen by The Tribune show that his debts in 1888, many of them as a result of his compulsive betting and gambling, amounted to more than £17,000, or £5 million in current day values.
Repeated appeals to the India Office to help Victor clear his debts, prompted one senior official, Major General Sir Owen Burne, to comment: "All things considered, I adhere to the opinion which I have already expressed that to clear Victor once more is a hopeless task, that in six months time he will come down upon us again in a similar manner, and that he is devoid of all principle and honour.
"In these circumstances I should 'let him go', continue his allowance of £1,500 a year and say that he may go to Canada if he wishes to do so, and be responsible for nothing more."
Victor was finally declared bankrupt in 1902 and spent the rest of his life in exile in Paris where he remained throughout the First World War. He died in 1918 of a heart attack, aged 51, in Monte Carlo, where he is buried.
ON TARGET
The value of the .12 bore hammer gun is estimated between £2,000 and £3,000
It was commissioned for Prince Victor Dalip Singh when he was barely 15
The Prince was the eldest son of Maharaja Dalip Singh & grandson of Maharaja Ranjit Singh
The gun is thought to have been used for many shooting parties hosted by Dalip Singh at his country estate of Elveden in Norfolk
Visit:
Bonhams site
for more details.
Shyam Bhatia, Tribune India, Sunday, March 11, 2012,