Shaheed Bhagat Singh by Harish Dhillon.: Indus Source Books. Pages 244. Rs 225.
We see how the young Bhagat Singh became a revolutionary as we journey along with him on his short-but-action-packed life. Here was a precocious young boy, buffeted by the forces that shaped events around him, reviewed by
Roopinder Singh
Can we ever say Bhagat Singh without the prefix Shaheed? No, just Bhagat Singh sounds incomplete, yet there was much more to the man than his martyrdom. He was a well-read, thinking individual of convictions that led him to take a path of great hardship and sacrifice.
He was young, just 23 years, when he died, but he has continued to live in popular lore, history and in the imagination of the people he died for till now. As a matter of fact, recently Bhagat Singh has been the focus of many books, but most of them have been historical ones, serious studies with extensive documentation. The writer has taken a challenge of penning a biography of a person who is much revered, and on whom much has been written.The Prologue, which deals with Bhagat Singh's execution, sets the tone for the book. The widely-known events are recounted with a sensitivity and fluidity by the author, a veteran of many a book of short stories and biographies.
We see the young Bhagat Singh, on his way to school, his attachment to his grandfather, his college life, his refusal to marry, and how he became a revolutionary as we journey, along with him, on his short-but-action-packed life. Here was a precocious young boy, buffeted by the forces that shaped events around him, like the Jallianwala Bagh incident when Brigadier-General Reginald Dyer ordered his soldiers to open fire on an unarmed gathering of men, women and children. Or the Nankana Sahib incident when on February 20, 1921, at the birthplace of Guru Nanak, the custodian, Narain Das and his men fired on Akali protesters killing their leader, Bhai Lachhman Singh, and many others. The Jaito Morcha of 1923, which was an Akali agitation for the restoration of Maharaja Ripudaman Singh of the Sikh princely state of Nabha, to his throne was an incident that affected the psyche of the people of Punjab, and certainly the sensitive soul of Bhagat Singh.
The Ghadar Movement in which Indians, who lived in the US and in Canada sought to liberate India from British colonial rule by whatever means necessary, also had a major ideological impact on Bhagat Singh.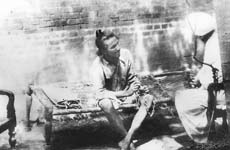 Having made conscious choices about what he had to do with his life, Bhagat Singh dedicated it to the cause of securing freedom for India. He did not follow the constitutional approach of Balkrishana Gokhale and his supporters, nor did Mahatma Gandhi's Non-Cooperation Movement hold his interest for long. For Bhagat Singh, his path lay in following the revolutionary course, even if it meant taking a route of violence in facing the might of the British Raj.
Bhagat Singh wrote a fair deal and through his articles and diaries, we get glimpses of the mind of the man. His essay, Punjab's Language and Script, was awarded a prize. His article Why I am an Atheist articulates his position regarding God, and The Last Petition is an impassioned plea of a revolutionary who wants to serve his cause even as he is ready to die for it.
Shaheed Bhagat Singh is a book in which the author brings alive the story of a man who remains an inspiration more than a century after this death. It is an easy read for a generation that readily responds to the name of the martyr, but needs to know much more about the man who readily sacrificed his life for securing the freedom of the nation we live in.
Tribune India, 6th Feb 2012