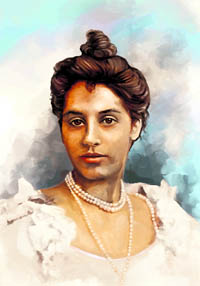 Princess Sophia Alexandra Duleep Singh was one of the prominent figures in the movement to secure women's right to vote in Great Britain, writes
Dr Kanwarjit Singh Kang
Princess Sophia Alexandra Duleep Singh, who emerged as a champion in the cause of women's rights, was born on August 8, 1876 at Elveden in England. She was the fifth of six children of Maharaja Duleep Singh and his first wife, Bamba Muller. She was named Sophia after her mother's mother and at her christening Queen Victoria became her godmother.
Princess Sophia was one of the prominent figures in the movement to secure women's right to vote in Great Britain. As an active member of the Women's Social and Political Union (WSPU), the Women's Tax Resistance League and the Suffragette Fellowship, she vigorously joined other women in campaigning for a change in the law to grant women the right to vote on the same terms as men. She took a leading part in the first deputation of 300 WSPU members to Parliament on November 18, 1910, to stress upon the government to pass the required bill. The police obstructed the women and a violent skirmish ensued. It was like a battlefield with police fighting unarmed women. More than 100 persons were arrested and many injured. The event has ever since been referred to as 'Black Friday'.
In getting more people to join the cause of WSPU, the organisation published a pamphlet 'Vote for Women' and Princess Sophia dedicated her time to deliver the pamphlets at various places at London, especially in front of the Hampton Court Palace.
Being a member of the Women's Tax Resistance League, she did not pay taxes due to be paid and in 1911, was summoned to Spelthorne Petty Sessions and fined 3 pounds for keeping a carriage, a manservant and five dogs without licences and for using 'armorial bearings'.
The county of Middlesex sent bailiffs to her house to demand payment of 14 shillings for her refusal to pay rates. They seized her diamond ring and auctioned it. A member of WSPU bought the ring and returned it to Princess Sophia. On a similar issue, she was again summoned in 1913 and was fined 12 pounds, which she refused to pay. The bailiffs arrived again and took a pearl necklace comprising 131 pearls and a gold bangle studded with pearls and diamonds. These were auctioned and bought by members of the Women's Tax Resistance League and returned to Princess Sophia.
Her response in court to being accused for not paying her taxes was blunt: "Taxation without representation is a tyranny`85 I am unable to pay money to the state as I am not allowed to exercise any control over its expenditure`85If I am not a fit person for the purpose of representation, why should I be a fit person for taxation?"
Her court appearances made good stories for the press and this made everyone realise the injustice of not allowing women to vote and eventually, in 1928, the Representation of the People (Equal Franchise) Act was passed and all women over 21 could vote.
Princess Sophia remained a close friend and associate of Emmeline Pankhurst, the founder of WPSU, a woman who in 1999 was listed by Time magazine as being one of the 100 most important people of the 20th century. She died in 1928 and Princess Sophia was elected president of the Suffragette Fellowship in her place. In the 1934 edition of 'Women's Who's Who', Princess Sophia gave her only interest as "The advancement of women." She died on August 22, 1948.
The Suffragette movement
Princess Sophia Alexandra Duleep Singh selling the Suffragette.
The late 19th century and early 20th century in Britain saw the emergence of the Suffragette movement.
It derives from the term "suffragist", which proponents of women's 'suffrage', or right to vote, originally adopted. Women wanted to be involved in the running of the country. They wanted to be treated as equals to men.
1912 was a turning point for the Suffragettes in the UK as they turned to using more militant tactics.
They burned down churches as the Church of England and chained themselves to the Buckingham Palace.
They vandalised the famous street Oxford Street, breaking all the windows there.
They refused to pay their tax. They sailed up the Thames and shouted abuses through loudspeakers at Parliament as it sat; Politicians were attacked as they went to work. Their homes were fire bombed.
Suffragettes were quite happy to go to prison. Here they refused to eat and went on a hunger strike. The government was very concerned that they might die in prison thus giving the movement martyrs. Prison governors were ordered to force feed Suffragettes but this caused a public outcry as forced feeding was traditionally used to feed lunatics as opposed to what were mostly educated women
Tribune India, 4th December 2011