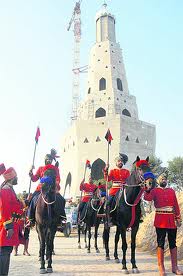 CHHAPAR CHIRI (MOHALI)/ SANGRUR: Three days back, this countryside was full of visitors, artists and a sparkling gathering of VVIPs, filled with a sense of pride and patriotism but today, it presents a cold and forbidding look. Silence surrounds the four-walled 20-acre campus of 'Fateh Burj' in Chhapar Chiri village near Mohali, with 'No Entry' boards greeting visitors on the main entrance point and at other gates.
Hailed as the tallest religious memorial in the country, meant as a memorial to Sikh General and first Khalsa ruler Baba Banda Singh Bahadur, Fateh Burj was inaugurated with great fanfare on November 30, by Punjab CM Parkash Singh Badal. Though the state government had boasted of completing the memorial in a record 11-month time, it is evident now that in a desperate bid to gain political mileage, ruling Akali government had preponed the inaugural ceremony by at least three-four months. Similar is the case with other two memorials which were inaugurated this week. Notably, these inaugurations had prompted the Sikh clergy to declare the title of 'Faqr-e-qaum Panth Rattan' for the Punajb CM.
Signs of ongoing construction work and incomplete infrastructure welcome visitors at the sites of Wadda and Chotta Ghallughara in Kup Rohira in Sangrur and Kahnuwan in Gurdaspur, respectively, which were 'inaugurated' by the Punjab CM earlier this week. If at all, the visitors manage to gain entry by persuading the guards, incomplete buildings and lack of information comes as a huge let-down.
'This is my second visit here and every time I was denied entry by the security guards. I had read in newspapers and saw in news channels that this memorial is open for public but here you will not find anyone to guide you,' 16-year-old Pardeep Singh, a class 10 student and resident of Kharar, told TOI outside Fateh Burj.
Another teenager Sukhvir Singh said, 'We have come here to learn more about Sikh history but the guards are rudely denying entry.' The guards claimed they had 'orders from their seniors. Some work is on and we cannot allow anybody to enter.' Nirmal Wadhawa (55), a Delhi resident, said, 'It appears all this is sham. What was the urgency to inaugurate this memorial if it was not ready? We have especially come from Chandigarh to see this place but the guards are shunting us from one gate to another. It (inauguration) seems like a political stunt to win votes.' At Kup Rohira, insiders reveal that it will take at least two more months to complete the memorial in right earnest. Local resident Mohinder Singh said, 'The interiors are far from being completed. Barely 60% of construction had taken place when it was inaugurated in haste." Resham Singh, who recently visited the memorial meant to commemorate the sacrifices of over 31,000 Sikhs by the army of Ahmed Shah Abdali in 1762, said, 'Sand and bajri(gravel) is lying scattered in the interiors. There is nothing inside the buildings. We will have to wait longer to go through history related to Sikh massacre.'
Alkesh Sharma & Neel Kamal , TNN | Dec 4, 2011,