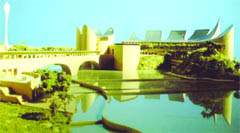 Hub of sikh legacyKhalsa Heritage Centre opens on Nov 25
The Punjab Government is all set to inaugurate the world class Khalsa Heritage Centre (KHC) to showcase the rich legacy of Sikh ideology and religion on November 25. The memorial would be dedicated to the nation by Punjab Chief Minister Parkash Singh Badal, it was announced here today. A decision to this effect has been taken at a high-level meeting presided over by Punjab Finance Minister and Chairperson of Sri Anandpur Sahib Foundation Dr Upinderjit Kaur.
Earlier, the PM was to inaugurate the KHC. The Minister said that people from all the religions across the globe would participate in these functions with enthusiasm. Dr Upinderjit also gave approval in principle for inviting country's legendary singers Lata Mangeshkar or Asha Bhonsle, for the occasion.
It was also suggested to invite other eminent folk and Punjabi singers like Jaspinder Narula and Sukhwinder Bitti, along with their troupes, for a joint performance on the occasion. The meeting also approved the setting up of 14 committees like the organising committee, the event management committee, the reception committee, the transport, board and lodging, press and publicity, site, security, sanitation and other committees to ensure hassle-free commemoration of the event.
Chandigarh, November 4, Tribune News Service