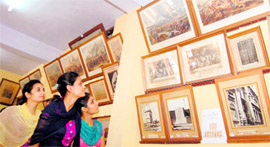 81-year-old museum houses rare books, manuscripts related to Sikh history
Rare books, manuscripts and hand-written documents belonging to the times of Sikh gurus at the 81-year-old Sikh Museum at the Khalsa College here is in for a major restoration and preservation.
The college authorities today announced that hundreds of documents, manuscripts and books would be digitized. College principal Dr Daljit Singh said the museum, which was established in 1930, has more than 6,274 books, which include rare books in English and Punjabi dating back to the 16th and 17th Centuries. He said there are hundreds of manuscripts in Urdu, Sanskrit and Persian languages, apart from newspapers and magazines that are dated as old as the year 1904.
There are weapons belonging to the times of Khalsa Army and other Sikh wars besides old coins. "It is a treasure house of the Sikh history and culture. Hundreds of students used the documents for their research activities. Now, we have planned to preserve the articles in the museum by using the latest digital technology," said Dr Daljit. The work on the digitization would begin soon, he added.
The museum receives numerous visitors everyday, who come to see rare books and photographs. There are also two handwritten "birs" of Guru Granth Sahib which are a major source of attraction for the visitors here.
Khalsa College Governing Council honorary secretary Rajinder Mohan Singh Chhina said they have earmarked special fund to preserve the ancient and rare documents at the museum. "The funds will not be a problem when it comes to preserving this rare treasure of Sikh history and culture," said Chhina.
Prof Inderjit Singh, head of the Department of Sikh History and Research said many research scholars visit and use the documents available at the museum for conducting research in the field of Sikh history.
Tribune News Service, Amritsar, October 3