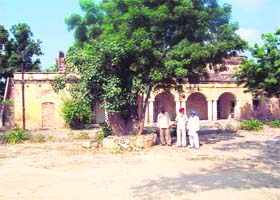 Bassian Kothi to be developed into memorial
Chandigarh, Oct 10 (PTI) Bassian Kothi, a 200-year-old monument of Sikh heritage, will now be developed into a memorial in remembrance of Late Maharaja Dalip Singh. Punjab Chief Minister Parkash Singh Badal approved to engage the service of Indian National Trust for Art and Cultural Heritage (INTACH) for the restoration work at a cost of Rs 2.65 crore, an official spokesman said here today. Badal directed Director of Tourism and Cultural Affairs to release Rs 80 lakh as initial payment to INTACH to start work on the prestigious project. Last Sikh ruler, Maharaja Dalip Singh, had spent a major part of his exile in the mid-19th century in the Kothi. The chief minister also approved the plan of Sikh circuit tourism train tour, besides giving nod to the Tourism department's plan to invite private players for luxury and budget AC bus service for religious tourism.
PTI, Oct 10,2011
See previous stories:
Maharaja Duleep Singh rest house report to be prepared.