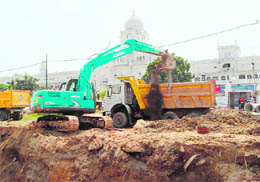 The construction work of the prestigious Golden Temple Entrance Plaza has finally begun and if all goes well, the project would be ready by the end of the next year.
Prior to this, the pre-construction activities like shifting of underground cables and pipelines from the construction area consumed a lot of time. However, the construction work has begun on a swift note with JCB machines and trucks being pressed into service for digging and shifting earth at the green belt right in front of the main gate of the Golden Temple.
The entire area where the work is on has been encircled with tin sheets. The agencies engaged in the work have also constructed two "jora ghars" (shoe keeping facility), one each on the either side of the shrine's main gate to facilitate the devotees while the construction work is on.
Deputy Commissioner Rajat Aggarwal said a deadline of 15 months, starting last week, had been set for construction work of the prestigious project, which means the plaza will take final shape by December 2012. In the upcoming plaza, apart from a spacious 'jora ghar', all amenities would be underground, including a state-of-the-art interpretation and information centre for tourists. As there is a lot of VVIP movement at the Golden Temple, the plaza will have a separate lounge to accommodate dignitaries and their entourage.
An auditorium with a seating capacity of 100-150 persons would be built so that a visiting dignitary could address the media.
A bank, ATM, airport and railway inquiry booth would also be set up. The plaza, spread over 1.75 acres, will have a flooring equipped with radiant cooling and heating system so that devotees could walk barefoot without any discomfort during extreme weather conditions.
Perneet Singh/TNS, Amritsar, October 3