Varinder Singh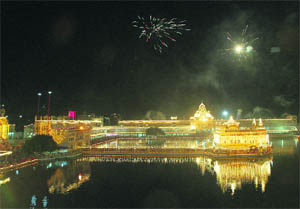 The mere thought of Diwali sparks myriad sparkling perceptions and thoughts about loads of illumination and sweets as it is a festival of a beautiful combination of joy, hope, commitment, coherence, harmony and that of shimmering lights.
The bright day and sparkling festive night are celebrated as a symbol of triumph of the good over the evil across the world by Hindus and Sikhs and members of other communities alike. People of the Indian origin and that of the Indian subcontinent get immersed neck-deep in the festivities. Natives of Sri Lanka, Nepal, Myanmar, Guyana, Mauritius, Trinidad and Tobago, Fiji, Singapore and Malaysia also refresh their religious commitment by becoming part of the festivities with equal fervour, but in different colours.
If the festival has been standing out as an epitome of victory of the truth over evil forces for most of the Hindus, it has always been coming as a potent reminder of faith, fulfilment, religious duties and as an important marker of historical events for the Sikhs — who celebrate it as Bandi Chhod Divas. The day stands out as a real symbol of religious and communal harmony as Sikhs and Hindus have been jointly celebrating it for centuries.
It was on this day that the Sixth Sikh Guru Hargobind, who had been detained for political and religious reasons by the tyrannial authorities of the time, led by Mughal Emperor Jehangir, had returned to Amritsar amidst huge jubiliation.
In fact, detention of the Guru was said to have been effected after Guruji's firm refusal to accept a proposal extended by Jehangir, exhorting him to denounce his religion and embrace the Muslim faith.
Along with his release, the Guru had also secured freedom of as many as 52 innocent princes, who had been thrown into the Gwalior jail for long. The dramatic release of the princes could be secured after the beleaguered emperor had made an interesting offer that all those who could hold the Guru's cloak would win freedom. So, making a shrewd use of the opportunity, 52 tassels were attached to the Guru's cloak and these were held by the princes, leading to their freedom.
To commemorate the release of the Guru and that of the jailed princes in October 1619, people had burst into jubiliation, thus turning the occasion into a festival of freedom (Bandi Chhod Divas) for the Sikhs and others alike, who had lit the Golden Temple with hundreds of lamps.
The Golden Temple starts wearing an awesome look a week ahead of Diwali as nagar kirtans are organised and intricate cracker-bursting sessions are held within the Golden Temple complex on a large scale in the evening.
A magnificent display of religious artefacts is organised by the SGPC to enable Sikhs to have a peep into their rich religious and historical past. Over the years, the spectacular Diwali of Amritsar has become so popular among people, particularly, Punjabis, Sikhs and other communities that they travel long distances from within the country and abroad to be part of the unique celebrations. As Diwali has always been a breathtaking and spectacular event at the Golden Temple for centuries, it has given birth to a popular saying, "Dal roti ghar di, Diwali Amritsar di."
Diwali unfolds another important leaf of the Sikh history —Martyrdom Day of revered Sikh scholar Bhai Mani Singh in 1737. It was Bhai Mani Singh who was entrusted with the task of the management of the Golden Temple in 1708. He had transcribed the final version of Guru Granth Sahib on dictation of Guru Gobind Singh in 1704 at Damdama Sahib.
In 1737, he had invited Sikhs from across the country to participate in the Bandi Chhod Divas celebrations at the Golden Temple after receiving conditional permission from the then Mughal Governor Zakaria Khan that a huge tax of Rs 5000 would have to be deposited by the Golden Temple management for celebration of the event.
Meanwhile, Bhai Mani Singh, they say, had come to know about Zakaria Khan's plot to eliminate Sikhs during the large gathering. To prevent any bloodshed, Bhai Mani Singh had informed Sikh leaders in all corners of the country not to participate in the festivities. As an outcome, tax could not be collected as Sikhs were advised to stay away from the congregation. Zakaria Khan got infuriated and he ordered the execution of Bhai Mani Singh limb by limb at Lahore. The event was commemorated as Martyrdom of Bhai Mani Singh, which strengthened the Sikhs' struggle for freedom of oppressed people and eventual establishment of Khalsa rule towards North of Delhi on this day.
Sikhs regard Diwali as the second most important day after Baisakhi when the Khalsa was formally established in 1699 by the Tenth Sikh Guru Gobind Singh. The day also assumes importance from Sikh political point of view as after Martyrdom of Baba Banda Singh Bahadar in 1716, the Sikhs initiated the tradition of pondering over and settling of their important issues by way of gurmatas at the bi-annual meetings at Amritsar. These important meetings — known as "Sarbat Khalsa"— were held on Diwali and Baisakhi.
As everyone knows, Diwali word is derived from "Deepawali," which means a row of lamps in Sanskrit. The festival marks the victory of Lord Rama over evil forces led by Ravana and Lord Rama's subsequent return to his kingdom, Ayodhya, along with Sita and Lakshman, thus putting an end to his 14-year-long exile.
Lord Rama's return to his capital had sparked such a widespread elation among people that they had virtually painted Ayodhya with light by lighting earthen lamps all over and by bursting crackers on a large scale.
Tribune India, Sunday, October 23, 2011