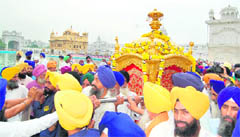 The SGPC has resumed the practice of allowing devotees to carry the "Palki Sahib" with the Guru Granth Sahib on their shoulders from Sri Akal Takht to Sri Harmandar Sahib early in the morning every day, a day after it came to light that the practice was being disallowed due to delay caused.
While the SGPC Chief Avtar Singh Makkar could not be contacted, his PA Manjeet Singh confirmed that the practice has been resumed. He said though things are back to the normal, if still there are any problems they will hold a meeting with the devotees to sort them out. Earlier, the practice was discontinued reportedly on the orders of the Manager, Darbar Sahib, after the installation of Guru Granth Sahib inside the sanctum sanctorum got delayed by 15 minutes on the birth anniversary of Sri Guru Ram Das allegedly due to the devotees.
The practice to carry "Palki Sahib" holds tremendous significance for the devotees who throng the Golden Temple in the wee hours to participate in the process. As per the tradition, a "Palki" (palanquin) gilded with gold and silver is prepared for bringing Guru Granth Sahib from the Akal Takht to the Harmandar Sahib. Fresh silk brocade, coverings and cushions are laid in the Palki.
A priest (granthi) of the Golden Temple appears with the Guru Granth Sahib on a cushion on his head and the worshippers bow their heads. He places Guru Granth Sahib on the cushions of Palki Sahib. Hymns, accompanied with drums and nagaras fill the air with rhythm, music and piousness.
Within half an hour, the devotees, who line up on either side of the passage to share the honour of carrying the "Palki Sahib", reach the Darshani Deorhi, along with Guru Granth Sahib. The head priest reverentially carries the Guru Granth Sahib to the sanctum sanctorum for "Parkash" (installation) ceremony.
The ceremony is witnessed by a huge rush of devotees and is held between the Akal Takht and the Darshani Deorhi. The same process is repeated at night for bringing back the Guru Granth Sahib from Harmandar Sahib to the Akal Takht for "Sukh Assan". The timing of the ceremony though varies as per the season. In summers, the ceremony takes place at 4 in the morning while in winters the time is is 5 am.
Tribune India. Amritsar, October 22