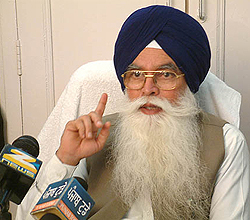 Punjab Chief Minister Parkash Singh Badal Wednesday released a book "Jini Sach Pachania" a compilation of biographies of great Sikh martyrs, who attained martyrdom to uphold the supreme values of Sikhism by an eminent Sikh scholar and former SGPC President Prof. Kirpal Singh Badungar.
Appreciating Badungar for his rare intellect and deep insight of the Sikhs history, the Chief Minister said that with this book, Badungar had compiled the entire Sikh ideology and history in his four books. He said that Badunger's work had not only depicted the rich legacy of Sikhism but also effectively propagated the ideology and the marshal spirit of Sikhism behind supreme sacrifices made by great Gurus.
This spirit would ever remain as the source of inspiration for our future generations to keep abreast them with the glorious traditions of Sikhism. It may be recalled here that Prof. Badunger had already authored three books namely 'Gurmat Vichar te Sikhi Jivan', Gurmat Sabhiachar' and 'Jinhan Dharam Nahin Haria' which had been widely admired by the readers in both literary as well as the Sikh religious circles within the country and abroad.
This book in hand depicts the heroic deeds and the sacrifices of various Sikh martyrs like Mai Bagho ji, Baba Banda Singh Bahadur, Bhai Sukha Singh and Bhai Mehtab Singh, Jassa Singh Ramgaria, Sham Singh Attariwala and many other brave Sikh warriors who sacrificed their lives to safeguard the human rights and propagate the Sikh ideology.
Prominent amongst others Principal Secretary to Chief Minister DS Guru,Secretary SGPC Avtar Singh, Lakhvir Singh and Pargat Singh Wajidpur.
Punjab Newsline Network, Chandigarh, Wednesday, 17 August 2011