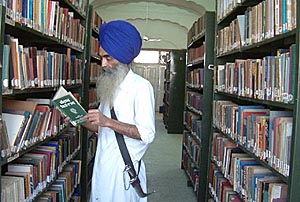 Plans are afoot to shift the Sikh Reference Library, which suffered extensive damage during Operation Bluestar in 1984, to an alternative location in the Golden Temple complex so as to give it proper and adequate space.
The Sikh History Research Board, which looks after the library, has recommended to SGPC chief Avtar Singh Makkar to facilitate "proper space" to the library that is currently located amid residential quarters in the Golden Temple complex.
At a recent meeting of the board presided over by its Chairman Kirpal Singh Badungar, the board members felt that the current location of the library is not suitable as it does not fulfil its present requirements.
"The library should be shifted to a modern and spacious premises fully equipped with all facilities to carry out research work and ensure proper upkeep of the treasure trove of knowledge with the help of modern techniques," they said.
They have suggested to the SGPC to shift the library to the rooms adjacent to Manji Sahib Diwan Hall which were earlier utilised by Guru Nanak Nishkam Sewa Jatha, Birmingham, while performing kar sewa.
They said the rooms may be renovated as per the needs of the library, adding that it could be a stop-gap arrangement till the new building of the library is raised. They have also recommended that a detailed map of the new library premises should be prepared.
The board has also recommended the recruitment of scholars in Hindi, English, Urdu and Persian, besides other required staff for the library.
Badungar said they don't have proper space for the library and the common man doesn't know about its location. "We would like to have suitable premises equipped with all modern facilities," he said adding that they have submitted their recommendations to the SGPC chief.
The library boasts of around 400 manuscripts of Guru Granth Sahib, over 800 other manuscripts and 21,000 books. The library has manuscripts that are as old as 300 years while the oldest book dates back to 150 years.
New langar hall building
The foundation stone of a modern langar hall building will be laid at the Golden Temple complex on Monday. SGPC secretary Dalmegh Singh said the new facility would come up at a cost of Rs 20 crore. He said apart from constructing a new building for langar hall, the expansion of the existing langar hall would also take place.
Amritsar, July 9, Perneet Singh, Tribune News Service