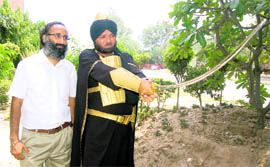 While the indomitable spirit of the Sikhs is legendary, sadly, this trait of the community is not lauded enough in contemporary culture. In yet another attempt to make the cultural heritage of Punjab enduring, film director Harjit Singh Ricky is venturing into his second project by making two films based on the two great holocausts, called 'Ghallughara of the Sikhs in 1762'. Ricky's first was the film, 'Banda Singh Bahadur', which was released by the Shiromani Gurdwara Parbandhank Committee (SGPC) last year. Titled, "Chhota Ghallughara" and "Wadda Ghallughara", the films have been commissioned by the cultural affairs department of Punjab.
"The heritage of our state is so rich and so neglected. It's recorded in history that Sikhs have always taken every adversity on their chin. Not just for themselves, but they have also fought for the cause of others," says Ricky who has researched extensively on the holocausts by going to historic places including Amritsar, Chhappar Chiri, etc.
The 20minute films, that are still underproduction, trace the historic time period when Ahmad Shah Abdali was instrumental in leading the massacre against Sikhs that killed nearly 30,000 of them in one day. Shot extensively in Rajasthan, Gurdaspur, on the banks of the Satluj in Ludhiana district and in Chandigarh, the lead negative character of Abdali in the two has been essayed by the known character actor, Arun Bakshi. Ironically, while Abdali has been characterized by an established actor, to portray the leading roles from the Sikh community, no known name could be roped in.
"When we made 'Banda Singh Bahadur', a few rules were formulated concerning depiction of Sikh characters on screen. These rules included the fact that only those who are puran Sikhs (turbaned and bearded), and who don't have any vices to them in real life, can play Sikh characters on screen. Since we couldn't find any known actor who fulfilled these criterions, we had to settle for unknown actors," says Ricky who is himself coming into the guise of a real, puran Sikh by growing his hair.
"Had I not played Abdali so venomously, how could the true colour of Jassa Singh Ahluvalia, who played a key role for the Sikhs in the holocaust, emerge," says Bakshi about his role in these bi-lingual films, which are in Hindi and Punjabi and will be screened in all theatres of Punjab.
To retain authenticity of that era, the films employ a host of Punjabi instruments like the sarangi and tabla creating the sounds of taadi. "Since these are films in the stature of war epics, their making cost about Rs 92lakh," says Ricky who is hopeful of resurrecting the stature of Sikhs through his creative endeavours.
Jaspreet Nijher, TNN, Jun 7, 2011, Chandigarh.