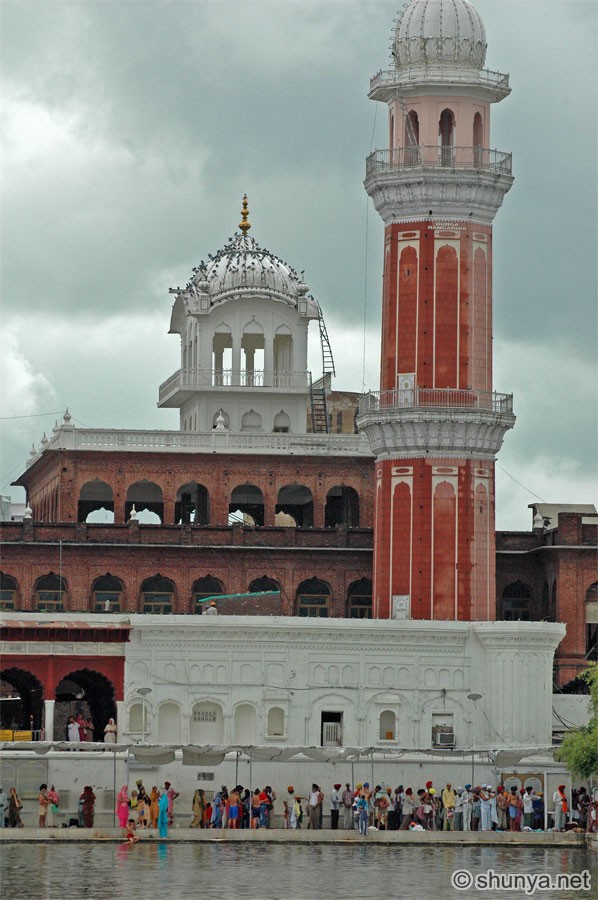 The deadline for the project completion is now next year.
Meant to be over within a year of its start, the restoration work at the historic Bunga Ramgarhia located in the Golden Temple Complex has got delayed and is nowhere near completion even after three years.
Talking about the restoration work, Onkar Singh Sandhu and Rajinder Singh Bhullar, who are looking after the project, said they have managed to retain the original structure to a large extent in the walls and the roof of the building. The building has flour floors. Out of these, three floors are below the ground. The work on the walls and the roof of the ground floor is 60 per cent complete. The upper basement is about 80 per cent complete. However, the work on the flooring is yet to start. Once the flooring and electrification work is done in the upper basement, a museum will be set up there which will showcase ancient weapons, coins and photographs and other material related to Sikh history from 1708 AD to 1800 AD.
The basement has a hall where the maharaja used to hold court in "Diwan-e-Khas," the royal seat of the Maharaja at "Diwan-e-Khas" has been kept much lower than the Harmandar Sahib which testifies the faith and respect he had in the Guru. The basement also has a prison and a treasury room, besides a well. The middle basement and the lower basement have only a room each.
The effort is to ensure the restoration work remains as close to the original as far as possible. The left wing of the building has already suffered on this count as during kar sewa a few years back the roof was built afresh by 'karsewawale babas'. They had also built walls under the arches on the ground floor and fixed doors to convert verandahs into rooms. The brickwork (Nanakshahi bricks) was plastered and painted at many places. However, now the restoration work is being carried out in consultation with conservation experts.
On the delay in the project, which started on April 18, 2008, Sandhu admitted that it was supposed to be completed in a year, but it got delayed as it involves intricate work and utmost care has to be taken while restoring the structure. He said the work would be completed within the next one year. On the museum, he said they are contemplating provide access to it from the 'parikarma' of the Golden Temple as well as from the galiara side.
About Bunga Ramgarhia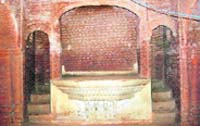 Built by eminent Sikh warrior Maharaja Jassa Singh Ramgarhia in 1794, Ramgarhia Bunga is a fine piece of architectural marvel and civil engineering expertise.
It is structurally supported on parabolic arches decorated with cornices and the projections are supported by architraves and brackets.Two minarets of 156 feet each, which were constructed for surveillance in and around the Golden Temple, are also a part of it.
Jassa Singh Ramgarhia-Royal Prisoner
A joint Sikh army known as Dal Khalsa, comprising forces of Sardar Jassa Singh Ahluwalia, Sardar Jassa Singh Ramgarhia and Sardar Baghel Singh, attacked the Mughal ruler in Delhi and occupied the Red Fort in 1783
During the brief occupation by the Khalsa army, Sardar Ramgarhia removed the royal throne.During the brief occupation by the Khalsa army, Sardar Ramgarhia removed the royal throne
Sardar Ramgarhia fettered it with chains and ropes and brought it to Amritsar to present it before the Almighty as a prisoner of war
At present, the seat of the throne measuring six feet in length, four feet in breadth and nine inches in thickness is placed in a tilted position, symbolising its surrender before the Golden Temple, on the ground floor of the Bunga Ramgarhia. The roof of the ground floor is supported by 44 red stone pillars brought by the Maharaja Ramgarhia from the Red Fort
Perneet Singh, Tribune News Service, Amritsar, June 22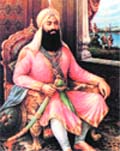 See previous story:
Bunga Ramgarhia to be made museum of Sikh History