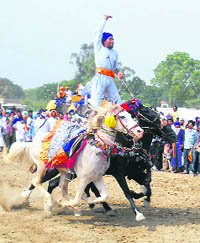 The four-day Baisakhi Mela, which attracted lakhs of devotees from all over the country and abroad, came to an end here this evening with impressive processions by Takht Sri Damdama Sahib and the Budha Dal.
The procession of Takht Sri Damdama Sahib culminated at Gurdwara Malha Sahib. Another procession by the Nihangs of 96 Crori Budha Dal, that started from Gurdwara Ber Sahib ended there after visiting various shrines.The display of martial arts like gatka and horsemanship by the Nihangs attracted a large number of people.
More than 300 police personnel provided security to the Budha Dal procession held under Balbir Singh.This was done in view of the fact that a group belonging to another faction headed by Surjeet Singh was camping at a close distance from the Baba Budha Dal headquarters in the town. There were apprehensions of a clash between these groups.
Jathedar Nandgarh said more than 2,000 Sikhs had been baptised on the occasion. For the first time, the Baisakhi festival had attracted a large number of social and religious bodies for organising community kitchen, he said.
Sukhchain Singh Gill, SSP, Bathinda, said no untoward incident was reported during the mela.
Meanwhile, more than 35,000 devotees descended on Takht Sri Damdama Sahib today to pay obeisance at the gurdwara there.
Chander Parkash, Tribune News Service, Talwandi Sabo, April 15