Baba Balbir Singh, Budha Dal chief
The 'Guru ka bagh 'cantonment' of the most prominent Budha Dal clan of Nihangs, the warrior saints created by tenth Sikh Guru Gobind Singh, still retains its part-nomadic lifestyle, horses and even huge containers of 'thandai', the traditional cooling drink laced with 'bhang'.
However, the winds of change have caught up with Nihangs, who can no longer be classified as illiterate preachers alone. The martial clan is undergoing a change, with the Budha Dal now immersing itself in educational and social activities. The Dal, which has been successfully running a school in Patiala since some time, has now also opened schools in Samana and Zirakpur.
A visit to the headquarters of the present Dal head Baba Balbir Singh still reveals the old martial signs but automatic pistols and guns have replaced weapons of yore. The image one gets is of an organisation which is reinventing itself to fit in the modern world. "Our followers now come from all walks of life and many of them are even bank managers and teachers", says Baba Balbir Singh, who apparently lays a lot of stress on education. "All children of our community are studying in English-medium schools with the Dal funding their education, books and uniforms", he says. It is holistic education which is helping children from the Dal to spread the Guru's word in other states as well as abroad.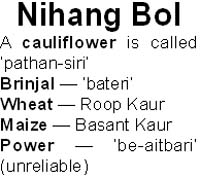 The Dal is also increasingly speaking out against drugs. Followers say 'thandai' laced with 'bhang' is only given as a 'parsad' according to custom when the army used to partake it before going in for battle. The Dal has initiated an 'amrit parchar' (ritual baptism) programme which it says has already resulted in 350 Sikhs being baptised during the last two days.
Even as Nihangs change, they preserve the traditional dress which includes a free-flowing gown called a 'domala' and a tightly wound blue turban. Martial art skills, including horse riding, tent-pegging and 'gatka' are also being preserved by the Dal which has three big 'cantonments' spread over 70 to 200 acres each in Punjab. The skills of the "army" of Guru Gobind are displayed on the last day of the Hola Mohalla celebrations.
Jangveer Singh/TNS, Anandpur Sahib, March 19