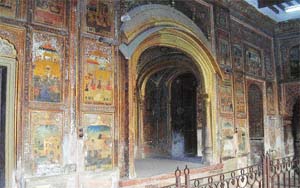 Frescoes within Quila Mubarak
Patiala has lost its true son of the soil in the IAS officer, Capt Rupinder Singh Randhawa, who not only initiated heritage conservation of the Quila Mubarak, the palatial fort complex of the Phulkian dynasty, but also worked tirelessly to put flood-control measures in place in and around the city.

Capt Randhawa, who died following a prolonged illness yesterday, will be remembered for bringing the Quila Mubarak as well as the old city back into the limelight. He not only got the INTACH to take interest in the restoration of the painted chambers in the "Quila Androon" complex, but also initiated the process of reviving the old markets to make the old city a vibrant cultural hub.
The legwork done by the IAS officer during his stint as Director, Cultural Affairs, was largely responsible for the heritage festivals held around the Quila Mubarak complex later as well as restoration of the Quila Mubarak and the Durbar Hall.
As the Additional Deputy Commissioner, Capt Randhawa also learnt from the floods experienced by Patiala in 1993 which led to loss of many lives and initiated the process of removing obstacles in riverbeds as well as correcting wrong planning while creating siphons on the Ghaggar. The officer, who was always a hands-on man, led from the front during subsequent flooding and was instrumental in saving lives and property in many cases.
Randhawa, who was at present working as the Land Acquisition Officer for Powercom, was also a foodie who loved to cook his own meals and keep an open house for his friends and relatives. A symbol of simplicity and honesty, he will be remembered by all Patialvis for years to come.
Jangveer Singh, Tribune News Service, Chandigarh, March 16