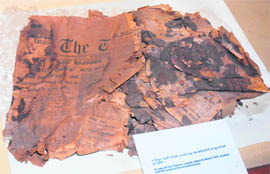 A copy of The Tribune is kept at Shaheed-e-Azam Bhagat Singh Museum at Khatkar Kalan.
A copy of The Tribune soaked with the blood of the revolutionaries and dated March 25, 1931, is the centre of attraction for visitors at the museum dedicated to Bhagat Singh here.
An urn made of glass contains the ashes of the martyr collected by Amar Kaur, a sister of the martyr, from Hussaniwala a day after the three freedom fighters were cremated on the banks of the Sutlej. Also exhibited is the pen used by the British judge to sign the black warrant.
There does appear renewed interest in Bhagat Singh as the museum now receives a steady stream of visitors not only from this region but from across the country.
His literature too is a big hit and people buy books and other items from here now. Earlier, only a few people came here, revealed the caretaker. All the approach roads to the village have been re-carpeted, the house of the martyr has been repainted and spruced up.
Everything is spic and span and it lives to its status of a model village. Posters and buntings added to the festive look in the village.
Farmers of the village have never had it so good with over 120 acres being taken on rent by various political outfits for holding the rallies tomorrow. The going rate is Rs 25, 000 per acre and an interesting aspect is that all the owners have been paid the money upfront. "
"Earlier, we had to run after the revenue officials to get our dues," revealed a farmer.
Today even the policemen deployed here were seen paying their tributes and scores of them also bought literature from the museum.
The village today resembled a virtual garrison with senior police and civil officials overseeing the preparations. Police has been requisitioned from all over the state for the event and arrangements are being supervised by an ADGP. Two helipads have also been made, one for the official state function and the other for the Congress.
Sarbjit Dhaliwal and Amarjit Thind
Tribune News Service, Khatkar Kalan, March 22