SGPC gives nod to shift it to Akali Market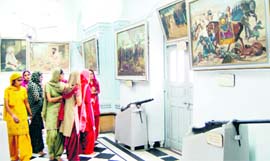 The Shiromani Gurdwara Prabandhak Committee (SGPC) has decided to raise a new building at Akali Market in Amritsar to facilitate proper space for the Central Sikh Museum which at present is housed in a few rooms in the Golden Temple complex.
The decision was taken at a meeting of the SGPC executive at Gurdwara Patshahi Chhevi, Kurukshetra, on Saturday. The museum, located on the right side of the main entrance to the Golden Temple, showcases the paintings of Sikh Gurus, saints, Sikh warriors and prominent Sikh leaders, who contributed to the propagation of Sikhism and the enhancement of Sikh religion. These paintings, along with brief details provided in English, Hindi and Gurmukhi, delights visitors, particularly history enthusiasts.
The museum also boasts of old hand-written manuscripts, cannons and swords of the 18th century, Nanakshahi coins from the times of Maharaja Ranjeet Singh, ancient musical instruments like sarangi, saranda, mardang and vachittar veena, cannon shells dating back to the Indo-Pak wars of 1965 and 1971. It also lists the names of 743 persons who were killed in the Golden Temple complex during Operation Bluestar in 1984.
According to sources, a few years ago, a proposal was moved for utilising the land, which has now been allotted for the museum building, to raise a 'sarai' (inn), but later the idea was dropped due to some reasons. However, many people still feel that the two, the 'sarai' and the museum, can be clubbed together with the former occupying the ground floor and the latter built on the upper floors. The current location of the museum is apparently dominated by the Golden Temple's main entrance and not many people pay attention to the museum's entry point, which is right next to it.
Meanwhile, the SGPC executive also gave its nod to set up a Sikh mission in Washington and printing facility for Guru Granth Sahib at North Carolina in the US.
It was also decided to acquire land in different countries for establishing Sikh missions to spread awareness about Sikhism so as to deal with problems emerging out of mistaken identity and security barriers.
The executive also passed a resolution seeking the appointment of a Sikh to the post of Punjab and Sind Bank CMD and made a request to the PM in this regard.
To make people in different countries aware of a separate Sikh identity, a decision was also reached to provide literature on Sikh history, culture and code of conduct to different embassies in their countries' respective languages.
Perneet Singh, Tribune News Service, Amritsar, February 6