The 75th Rural Olympics got underway here today with spectacular feats by the children, the young and the not-so-young. The stadium came alive with performers lifting incredibly heavy weights, pulling motorbikes and cars with their teeth, lifting ploughs, balancing two horses and effortlessly breaking iron chains. Other attractions were bullock-cart races, police bikers and a para-glider from Karnal.
The one who stole the show, however, was the oldest of them all. Jagdev Singh (75) claims to have ignored medical advice to avoid eating butter, red meat and desi ghee. The Sangrur resident looked robust and astounded spectatos by lifting a stone weighing all of 80 Kgs. He then tied a weight of 20 Kgs to the stone and lifted them both.
A teetotaller, he daily drinks four litres of milk, eats 250 grams of butter and an equal quantity of desi ghee. "I have specially kept eight buffaloes and all the dairy produce is consumed at home. I am not suffering from any disease. No ailment can dare touch me," said the veteran farmer with pride. Both his sons — an armyman and a farmer —also lift weight. "We all used to practise together. I have never missed these games in the last 60 years," he added.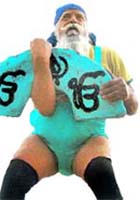 A contemporary, 74-year-old Gurnam Singh has been lifting a bicycle with his teeth for the past decade.Claiming to hold a state record of walking 5 kms in 38.45 minutes, Gurnam Singh, a resident of Ludhiana, began doing it after he witnessed the feats here. "I went back and could not sleep. I was so impressed with the performers that I decided I too would start doing something to win applause. I practised for a year with my bicycle and performed here the next year. Since then I am a regular," he said. He stays away from sugar and soft drinks.
Counting Aamir Khan among his fans, Nihang Maghar Singh of 'Rang De Basanti' fame won the hearts of the audience with his balancing act on two racing horses. A 50-year-old resident of Samrala, this practitioner of martial arts shot to fame when he performed the feat in the Bollywood film. "Since then Aamir has become my fan. He sent his sister to witness our feats at our farm and was full of praise for us, " he confided. He balanced himself on the back of two racing horses, one feet on each, and did several rounds of the stadium.
"I balance four horses when I am on my farm. I bring only two of them here as the horses get nervous seeing the crowd cheering." he says.
Kanchan Vasdev & Mohit Khanna, Tribune News Service, Kila Raipur, February 4