She has been selling her work for a long time now, but calligraphist painter Kamaljeet Kaur has brought them to Ludhiana for the first time. An exhibition of her creations titled, Aneeq, opened at Gallery Artmosphere here on Monday.
The exhibition was inaugurated by Qila Raipur Jassi Khangura.
Talking about her work, Kamaljeet says: "I took to calligraphy in Punjabi because not many people were doing this. Writing from Gurbani gives me peace and happiness which I want to spread and share with others through my work."
Kamaljeet has used her skill and art to decorate canvasses, lamps, cups. "Many other things can be done too, but as this is my first exhibition in the city, I did not want to create a clutter," she says. The artist has been painting T-shirts, kurtas and other items, too, but only on demand.
"I paint Gurbani for I am a Sikh. Gurbani comes easy to me though I learnt reading Guru Granth Sahib in Gurmukhi much later in life. But I don't stick to verses only. I have painted hymns and even abstract," says the painter.
February 16, 2011, Amrita Chaudhry, Ludhiana, www.indianexpress.com
SikhNugget
Some examples of her work include: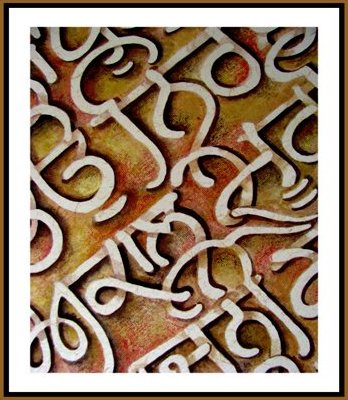 The website of her work can be viewed at the following:
http://www.kamaljeetkaur.com/gurbani-calligraphy.html