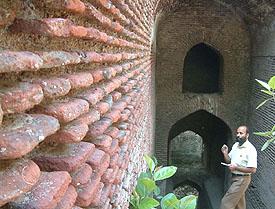 Historic baulis (water tanks) belonging to the medieval and ancient eras dot the urban and rural areas of the district. But unfortunately, they lie in a state of neglect. Notwithstanding the fact that baulis are excavated at regular intervals here, neither the state, nor the Archeological Survey of India ever expressed a keen interest to preserve them.
Relics of a bygone era, these water bodies used to be a mandatory part of gurdwaras and temples. Consonant with nature, they also played a major role in recharging groundwater.
Recently, the Heritage Club of the local Cambridge International School, comprising students and teachers, stumbled upon a historical bauli at the Bhaini Gillan village on the Fatehgarh Churian road.
In pursuit of discovering and associating with the history of the region, the team of students, headed by their teachers Sharanjit Kaur and Sandeep Singh, went to the bauli site and studied the unexplored physical aspects of the site, which is situated on a common spot of the village.
The teachers said the bauli was about 300-250 years old.
As per oral history, the place was the site of the Hola Mohalla fair in the past. However, with human migratory trends, the place fell to disuse and only remains of the bauli are left today. Sharanjit said there are godowns on the upper periphery of the bauli.
A local numismatist and history lover Dev Dutt remarked that the bauli system was a vital source of potable water in the old times. Many baulis were found in the Punjab region and many of them were associated with the Sikh Gurus. He said one such famous bauli was appreciably maintained at Goindwal Sahib.
The 'tank' system shows that long before the great dam-building projects of the 20th century, the people of this part of India had a firm grasp on hydraulic engineering, he said, adding that unlike many big dams, this system of water management was in tune with the environment.
The tanks also provided a vital habitat for birds such as pelicans, painted storks, and common cranes, and wildlife as well. He said an ancient mound was detected in the Kotla Vasawa Singh village in the Khemkaran Sector near the India Pakistan border.
"Relics found there pointed that it was home to a prosperous civilization," he added.
The retrieval of three idols - one of them being that of Lord Mahavira, the 24th and last Tirthankara of the Jain religion - from the tank of Kotla Vasawa Singh pointed towards the antiquity of the place.
Unfortunately, two of the idols were lost, while the third was kept outside a religious shrine, without any protection.
The Lok Kalyan Samiti identified at least 20 water bodies - located at Serai Imanat Khan, Kahngarh, Kotla Wasava Singh, Attari, Boparai Kalan, Kahangarh, Rajatal, Dhand Kasel, Chawinda Devi, Bhakna Kalan, Baniye Ke, Preet Nagar, Pul Kanjri, Fatehabad, Gandiwind, Naurangabad, Ramtirath and Chamiyari, some years ago. Usually each water body had a temple on its bank.
Neeraj Bagga/Tribune News Service, Amritsar, January 7