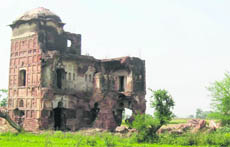 Restoration work of dilapidating historical Jahaz Haveli of Diwan Todar Mal has begun. The Shiromani Gurdwara Parbandhak Committee (SGPC) has initiated the work with help of England-based Virsa Sambhal organisation.
Diwan Todar Mal had relinquished his entire wealth to get a small piece of land to perform last rites of Sahibzadas of Guru Gobind Singh and his mother Mata Gujri. Nawab Wazir Khan (Nawab of Sirhind) had ordered to brick alive both Sahibzadas. The SGPC had stated that efforts were being made to restore the haveli to its original shape and glory. Major portions of the building collapsed over the years due to lack of care.
Restoration work will be done in a phased manner under the supervision of the Punjab Conservation Department. The work of first phase will be completed in next one month. The SGPC took charge of the haveli after it passed resolution to conserve Sikh culture-related heritage. Over the years, the haveli fell victim to the government's apathetic attitude and mostly people around took care of it. Interestingly, in the year 2003, a private trust got the haveli's egistration in its name without even paying its stamp duty. A local NGO and Jain community had also claimed its stake over the haveli and demanded that the haveli be given to them.
The SGPC brought the entire matter to the notice of Chief Minister Prakash Singh Badal. On interference of the SGPC, the private trust and the local NGO withdrew its claim. The trust, in fact, handed over all documents of the haveli to the SGPC in 2007. Since then the SGPC is in possession of this haveli and has been making plans for its restoration work.
Gurdeep Singh Mann, Tribune India, Fatehgarh Sahib, November 15th 2010.