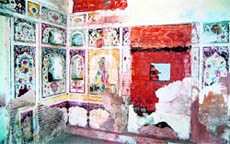 Frescoes survive municipal apathy
Officials and conservationists have been pleasantly surprised by the discovery of some resplendent frescoes found on the terrace of Maharaja Ranjit Singh's summer palace here. The only room on the terrace had been out of bounds for the visitors and had remained locked for several decades. But when it was opened at last, they were captivated by the frescoes painted on the walls.
The wall paintings display intricate floral patterns and episodes from the 'Raas Leela' of Lord Krishna.
The palace, built during the reign of Maharaja Ranjit Singh (1801-1837), used to be the office of the Deputy Commissioner during the British period and was later used by the Municipal Committee. It was converted to a museum in 1975. But the frescoes remained largely unknown. Even Prof Balwinder Singh, a city based conservationist who has been visiting the museum since 1992, is surprised to see the photographs. He was not aware of the existence of the frescoes, he admits.
While much of the ground floor was turned into the museum, the terrace inexplicably was neglected. Frescoes however have survived official indifference and the colours still remain bright. There are rough edges though and callous attempts at creating windows have damaged several parts of the paintings.
Now that the heritage building is being restored under the supervision of the Punjab tourism department, officials hope to get the assistance of the Archaeological Survey of India and conservationists to restore the art work.
The priceless frescoes are an invaluable part of Punjab's heritage and experts are both dismayed and baffled at the finding. They are dismayed because of the criminal negligence of the MC which paid no attention to restoration or preservation of the artwork. They are also baffled at the absence of similar frescoes in other parts of the palace.
" The presence of frescoes on the terrace indicate a strong possibility that similar frescoes were painted on other walls also in the palace," says Prof Balwinder Singh, an expert in conservation and former Head of the Guru Ram Das School of Planning, GND University. The only conclusion, he says, is that paintings on other walls were mindlessly destroyed during the British period. But then why were frescoes in this room spared ?
He recalled that the period of Maharaja Ranjit Singh was a rennaisance period in Punjab when art and architecture flourished under the patronage of the ruler. "The restoration should be carried out on a war footing," he said.
The summer palace underwent several changes during the British period and new walls were put up between pillars to make rooms that destroyed the aesthetic structure of the Darbar Hall, said Balraj Singh, Tourism Officer. Attempts are now being made to restore the Darbar Hall as it originally was.
PK Jaiswar/TNS, Amritsar, October 28