Documentary maker Narinder Pal Singh's latest offering Guru Nanak highlights some interesting takes culled from Gurbani and research works carried out by Turkish scholars
Revival of Punjabi cinema is one topic that we love to discuss. This holds true for the Punjabi moviemakers as well. Punjabi cinema is evolving, moving in the right direction. Everything is well, but has someone spared a thought for a parallel stream of art — documentaries?
Narinder Pal Singh is one documentary maker with a mission-to make, market and popoluarise Punjabi documentaries. His latest work on Guru Nanak is based on new research on Guru Nanak's Gurbani. Narinder will be taking the documentary to Sikh Lens Festival to be held in New York, Spinning Wheel Film Festival, Torontto and Anglo-Sikh Heritage Festival, UK. "I had done theatre and got interested in documentaries. I wanted to show people, issues, incidents which we have forgotten about," says Narinder, who has 11 documentaries to his credit already.
The word documentary is synonymous with extensive research work. Says Narinder, "People perceive documentaries as digging the past, I highlight the person and the situation in yesteryear and present-day context." For the new documentary Guru Nanak, Narinder had to visit Turkey. "I found traces of extensive research done on Guru Nanak in Istanbul. I have included the traveling maps and stories shared by people. I have been able to make this documentary with assistance of Sikh scholars, Janamsakhis and consulted various books over a period of three years," he adds.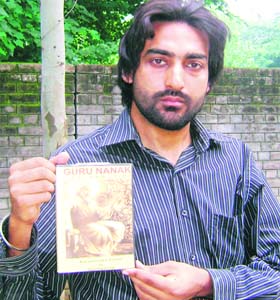 Despite the hard work, Narinder is doubtful about the life of documentary makers. "Sourcing funds is a big problem with me. Marketing it well is another problem. I want to make documentaries based on Punjab," provides Narinder. We have a rich heritage, a strong history that needs to be showcased, and documentaries is one way of doing it." Narinder makes a conscious effort to give a lighter touch to the documentaries. "The idea is to find more viewership. If I make serious stuff, the chances of it going down well with the viewers might not be possible." After Guru Nanak, Narinder Pal Singh is now working on the subject of Kartar Singh Sarabha.
Jasmine Singh, Tribune india, 9th September 2010.