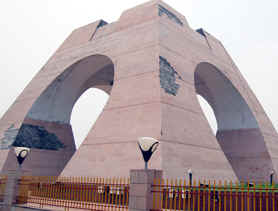 Ugly patches can be seen on the Gateway of Amritsar on the Amritsar-Attari bypass near Chheharta.
The Parkash Singh Badal's government's ambitious landmark structure of the Gateway of Amritsar, situated on the Amritsar-Attari road, on the lines of Delhi's India Gate and Mumbai's Gateway of India, has turned out to be an embarrassment.
The tiles on the gate, prominently located at Naraingarh Chowk along with a magnificent statue of General Sham Singh Attariwala, a gallant commander in the army of legendary Maharaja Ranjit Singh, are coming off with each passing day.
It resulted in appearing of ugly patches on the gate, which offers a clumsy look to the domestic and international tourists. The construction of the gate was completed in February, 2009, and was formally inaugurated by Chief Minister Parkash Singh Badal on January 17 and within a few months the tiles have started coming off. This shows that low-quality material was used for the construction of the gate.
When the matter was brought to the notice of the Commissioner, Municipal Corporation, D.P.S. Kharbanda, he said the gate would be restored to its original condition with in a week. He assured that punitive action would be initiated against the private company which had constructed it.
The Gateway of Amritsar greeted the international tourists coming in and crossing over from the Attari-Wagah Joint Check Post. The dismal look put the nation in shameful state, said a senior citizen, Major Mohindar Singh Sarkaria.
Badal, as the then Chief Minister, had laid the foundation stone of the gate in 1976, but the project could not see the light of day. The foundation stone was again laid by former Chief Minister Capt Amarinder Singh in 2006.
The Rs 3.35-crore project on 2.5 acres is located around 15 km from the Indo-Pak border. The gate is 70 ft high with a base of 80 sq ft. An 800-ft-long and 18-ft-wide passage was constructed with granite and Dhaulpur stone.
As per the original plan, the second phase of the project would see the construction of an international-level cafeteria for the visitors, which would cost about Rs 25 to 20 lakh.
Tribune News Service, Neeraj Bagga, Amritsar , August 10