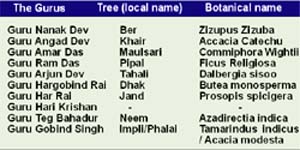 Taking a unique step to add grace to the effulgence of the history of the Takht Sri Damdama Sahib, located here, officials of the forest department have carved out a design to set up a religious park—Guru Baag—dedicated to all ten Sikh Gurus.
After conducting a deep research of the religious-cum-historical books, the staff of the divisional forest officer (DFO), Bathinda, observed that different species of trees were associated with almost every Sikh Guru.
Following the findings, forest officials have designed the Guru Baagh with a total of ten trees, each depicting one of the ten Sikh gurus. It will be set up in the Takht Sahib complex, ensuring a peaceful ambience to enable pilgrims spend their time in religious-cum-spiritual activities.
According to the design specifics, the park will be circular in shape, having one tree of Ber (Zizupus Zizuba) in its middle, which would depict Guru Nanak Dev, while the other nine trees, representing the other nine Sikh Gurus, will encircle it at an equal distance.
The findings of the DFO states that Ber (Zizupus Zizuba) depicts Sri Guru Nanak Dev, Khair (Accacia Catechu) represents Guru Angad Dev, Maulsri (Commiphora Wightii) stands for Guru Amar Das, Pipal (Ficus Religiosa) depicts Guru Ram Das, Tahali (Dalbergia sisoo) is for Guru Arjun Dev, Dhak (Butea monosperma) is for Guru Hargobind Rai, Jand (Prosopis spicigera) represents Guru Har Rai, Neem (Azadirectia Indica) shows Guru Teg Bahadur and Impli/Phalai (Tamarindus indicus/acacia modesta) depicts Guru Gobind Singhji.
However, despite the best of efforts, the forest department staff in Bathinda could find only nine trees depicting the nine Sikh Gurus. They could not ascertain the tree depicting the eighth Sikh Guru—Guru Hari Krishan Sahib.
Finally, they have now sought the help of the Shiromani Gurudwara Prabandhak Committee (SGPC) in this attempt.
Confirming the facts, DFO, Bathinda, SP Anand Kumar said, "It will be an environmental project which would have great religious importance as well. We have sent the proposal and design to the state government as well as the SGPC in Amritsar. Once the project gets sanction, we will start our work."
Speaking to The Tribune over the phone, SGPC president Avtar Singh termed the project as appreciable. However, he maintained, "Due to my busy schedule, I could not go through the details of the project. After analyzing the feasibility, I will recommend the case."
Rajay Deep, Tribune News Service, Talwandi Sabo (Bathinda), March 30