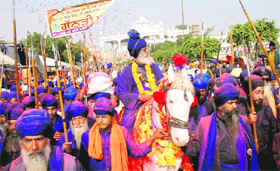 Nihang bodies today celebrated Hola Mohalla together for the first time. Celebrations started from Kesgarh Sahib today.
Participating nihang organisations included Tarna Dal, Marhiyan Wale, Baba Bakale Wala, Bidhichandiye and Hariyan Bela wale. All the organisations observed Hola Mohalla celebrations under Baba Balbir Singh from Budha Dal.
Jathedar Takht Sri Kesgarh Sahib Giani Tarlochan Singh and Jathedar Akal Takht Giani Gurbachan Singh honoured leaders of Sikh organisations.
Meanwhile, week-long celebrations, too, came to an end today.
Tribune News Service, Anandpur Sahib, March 2
Editors Note:
On Feb 26th the two factions of the Buddha Dal met to reconcile their differences. Baba Joginder Singh met with the SGPC installed Baba Balbir Singh to ensure that the hostilities between both groups would cease and they would work jointly in the future.