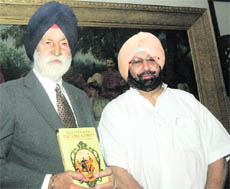 New book on Ranjit Singh by Capt Amarinder Singh
Even as he plots the return of his party to power in Punjab, former Chief Minister and Congress leader Capt Amarinder Singh has penned a book "The Last Sunset: Rise and Fall of the Lahore Durbar" on the tallest Sikh king, Maharaja Ranjit Singh, which was released here this evening.
Marshal of the Indian Air Force Arjan Singh released the book. Many politicians, including Cabinet minister MS Gill, Congress spokesperson Abhishek Singhvi, former Himachal Chief Minister Virbhadra Singh and ministers of state Shashi Tharoor and Sachin Pilot attended the function. Amarinder's wife Preneet Kaur was, however, conspicuous by her absence while his friend Aroosa from Pakistan was present with some family members.
Talking about the book, he said he spent over five years researching the book, making trips across the country and abroad to browse Sikh literature and documents in British and Pakistani museums and archives.
"The book entails the comprehensive history of the Lahore durbar, the glorious reign of Ranjit Singh and his exemplary organisational skills that led to the formation of the formidable Sikh army and the fiercely fought Anglo-Sikh wars. Both the Anglo-Sikh wars of 1845 and 1848 have been covered in detail in the book," Amarinder said.
When asked why he chose this topic in particular, Amarinder said: "A lot has been written about Ranjit Singh by numerous historians. Yet, they remain more of chorological details of the events that happened then. Ranjit Singh was an illiterate man who expanded his rule to an area much bigger than the present Pakistan, even before he turned 21. But for treachery from within his own durbar, he would have stalled the evil designs of the East Indian Company."
"But the book divided in five parts takes a holistic look at the Lahore durbar, even before and after Ranjit Singh," he added. The book would be released in Chandigarh and Lahore soon.
Tribune News Service, New Delhi, March 4