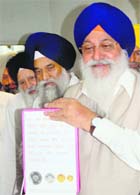 SGPC president Avtar Singh Makkar and Akal Takht Jathedar Giani Gurbachan Singh release gold and silver coins, in Amritsar on Saturday.


In an effort to make Punjabis relive the eventful era of one of the most revered saint-warrior and martyr of the Sikhs Banda Bahadur, Shiromani Gurdwara Parbandhak Committee (SGPC) chief Avtar Singh and Akal Takht Jathedar Giani Gurbachan Singh jointly released four types of gold and silver coins in memory of Banda Bahadur at the SGPC Information Office here today.
The release of the gold coins, weighing 5 gram (Rs 9,000) and 10 gram (Rs 17,000), and the silver coins, weighing 50 gram (Rs 1,500) and 25 gram (Rs 800), has in fact, virtually kick-started the SGPC organised six-week long tercentenary celebrations in memory of the "Sirhind Fateh" (victory) of Banda Bahadur.
The SGPC chief said the huge 4,000-km-long march of Sikhs, to be organised from the Takht Sri Hazoor Sahib in Maharashtra to Fatehgarh Sahib, would be inaugurated on March 30 by the five Sikh high priests.
The memorial silver and gold coins being offered by the SGPC at no-profit-no loss basis, could be purchased by devotees either from the SGPC head office in Amritsar or from any of the SGPC-managed gurdwaras in the country, he said. The coins, he said, were exact replica of coins issued by Baba Banda Singh Bahadur in the name of Guru Nanak Dev and Guru Gobind Singh after his famous Sirhind victory in 1710.
The memorial coins would also be available to the Sikhs participating in the Nanded-Fatehgarh Sahib march, which would culminate in the three-day gala celebrations at Fatehgarh Sahib from May 13 onwards.
The younger generation of Sikhs need to learn a lot from the sacrifices made by Banda Bahadur and other Sikh martyrs," said Avtar Singh and Giani Gurbachan Singh.
Varinder Singh, Tribune News Service, Amritsar, March 27