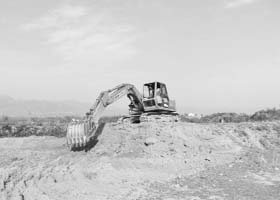 Work in progress at Charan Ganga stadium in Anandpur Sahib
The drainage department today started work of widening Charan Ganga stadium that was left 'squeezed' during channelisation of Charan Ganga rivulet, much to the chagrin of Nihang organisations.
Last year in July, the drainage department had undertaken the work of widening the rivulet, which apparently reduced the area of Charan Ganga stadium that is frequented by the Nihang organisations, especially on the occasion of Hola Mohalla. The stadium is also of historical importance as Guru Gobind Singh had walked over the place.
The move drew flak from Nihang organisations that protested the move pressurising government to stop the work. Nihangs had observed that the stadium's area was lessened to accommodate widening and channelisation of the rivulet. Instead of mooting a project for augmentation of existing infrastructure at the stadium, it was destroyed.
Intervening in the matter, advisor to the Chief Minister Dr Daljeet Singh Cheema asserted to Nihang organisations that the stadium would be restored to its original plan. The Nihang bodies then gave an ultimatum till January 5 expiring which they decided to pick up the spade and mend the stadium themselves.
The deadline was extended to February 10 on assertion from Takht Sri Kesgarh Jathedar Giani Tarlochan Singh. The present work is being executed from the Rs 105-crore funds earmarked to Anandpur Sahib from the Centre government.
Anandpur Sahib, January 31, Tribune India.