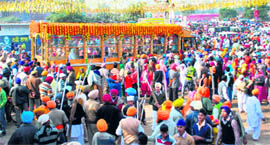 Gurdeep Singh Mann, Tribune News Service, Fatehgarh Sahib, December 26
The vehicle carrying Guru Granth Sahib during the nagar kirtan procession marking the culmination of the Jor Mela in Fatehgarh Sahib on Saturday.
The three-day Shaheedi Jor Mela at Fatehgarh Sahib concluded with a nagar kirtan procession taken out from Fatehgarh Sahib Gurdwara to Shri Jyoti Swaroop Gurdwara here today.
Nagar kirtan started from gurduwara Fatehgarh Sahib at 9 am after Takht Sri Kesgarh Sahib Jathedar Tarlochan Singh performed ardas and Darbar Sahib head granthi Bhai Jaswinder Singh took the hukumnama for the day.
With panj piaras (five beloved of Guru), Guru Granth Sahib was taken in a decked up vehicle. Dozens of ragis groups, gatka groups, nihang, workers, Sukhmani Sewa Societies and Sarv Dharam Sewa Society members walked ahead of the vehicle remembering the martyrdom of younger Sahibzadas of Guru Gobind Singh and his mother Mata Gujri.
The Students Akal Academy, Baru Sahib, gave guard of honour to Guru Granth Sahib. Mata Gujri College, Fatehgarh Sahib, and Shaheed Udham Singh Foundation, Mandi Gobindgarh, distributed 10, 000 copies of hukumnama issued by Shri Akal Takht against female foeticide. Students of Sikh Missionary College, Ludhiana, also participated in the procession.
After covering a two-hour distance, the nagar kirtan culminated at Gurduwara Sri Jyoti Swaroop with kirtan. Jathedar Tarlochan Singh performed ardas. The mob observed two minutes silence as a mark of respect to the departed souls.
Giani Gurbachan Singh, Jathedar Akal Takht Sahib thanked devotees for reaching at Fatehgarh Sahib on the occasion. He appealed the people to get their children baptised and take up the cause of religion and also asked them to come out against the drug addiction.
SGPC president Avtar Singh Makkar also addressed the gathering. Deputy Commissioner Yashvir Mahajan and SSP Dr Kaustubh Sharma expressed satisfaction over the peaceful culmination of the Jor Mela.