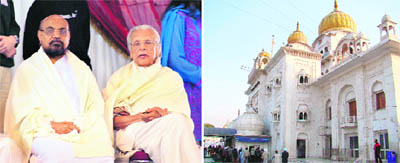 Jainism and Sikhism have little in common. Yet there have been eminent Jains who were admirers of the Sikh Gurus and came to their help in difficult times

Khushwant Singh, Tribune India, 07 November 2009
I was not aware that the Sikhs had any connection with the Jains in their history. Their religions have very little in common. Jainism is basically atheistic with a rigid ethical code, requiring respect for all forms of life. Jains are strict vegetarians and Spartan, and they extol the virtue of starving oneself to death to achieve moksha (salvation).
Sikhism, on the other hand, believes in one God, its Ten Gurus and its scriptures, the Granth Sahib. It calls upon its followers to work hard, share one's earnings and lead a fulfilled life. Most Sikhs are meat eaters and decry vegetarians as daal khorey (lentil eaters). Nevertheless, there were some eminent Jains who admired the Sikh Gurus and came to their help in difficult times.
I am beholden to Mahender Kumar mast of Panchkula for information on the subject. When Guru Tegh Bahadar was on his preaching mission in East India, he and his family were invited to stay in his haveli in Patna by Salaas Rai Johri. While he went on to Bengal and Assam, his family stayed in the haveli in Patna. In his hukamnamas sent from Assam, Guru Sahib referred to Patna as Guru-ka-Ghar — home of the Guru.
Thereafter, Saalas Rai donated half of his haveli to build Gurdwara Janam Sthaan because Guru Gobind Singh was born there. On the other half he built Shvetamber Jain Temple — both share a common wall. Dewan Todar Mal was an Oswal Jain who rose to become a Dewan in the court of Nawab Wazir Khan of Sirhind.
When the Nawab had Guru Gobind Singh's two younger sons put to death, it was Todar Mal who conveyed the sad news to their grandmother — who died of shock — and had the three bodies cremated with religious rites. On the site of the cremation at Fatehgarh Sahib, now stands Gurdwara Jyoti Sarup. A large hall of this gurdwara honours the builder by being named after him — Dewan Todar Mal Jain Yadgari Hall.
Jainism and Sikhism have little in common. Yet there have been eminent Jains who were admirers of the Sikh Gurus and came to their help in difficult times