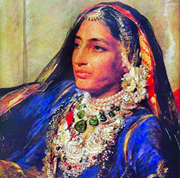 Rani Jindan's necklace sells for £55k.
Varinder Singh, Tribune News Service, Amritsar, October 8
The Court and Camp of Runjeet Singh

What, however, was a matter of solace for the Sikhs and Punjabis to a large extent was that the necklace was bought by two Kapurthala district-based Punjabi businessmen-cum-private collectors, Peter Virdi from Kapurthala township and his associate Dev Bath, originally from Baathan village in Kapurthala district.
They, it was learnt, bought the necklace, for a whopping £55,200 (around Rs 42 lakh), including buyer's premium at the rate of 20 per cent. Virdi and Baath live in Central London.
Another item related to the Sikh history which, went under the hammer and was sold for £2600 was a braclet of six Sikh Maharajas, including Duleep Singh. The authorities at Bonhams, it was learnt, were expecting to fetch £25-30000 from the auction of the necklace.
"The auction evoked a warm response and a large number of Punjabis, particularly Sikhs, were present," said London-based journalist Nirpal Shergill, adding that the Sikhs felt relieved that necklace was purchased by the two Punjabi collectors.
The necklace and other rare Sikh artifacts figured among over 380 items which, went under the hammer at Bonhams, amid a huge gathering of art lovers this evening, sources said. The beautiful emerald and seed-pearl necklace had remained a part of the Lahore Durbar Treasury and was one of the rare pieces of jewellery that adorned Maharani Jindan (1817-1863). The necklace, it was said, was made of as many as six polished emerald beads, each of which was mounted in pure gold and was surrounded by seed pearls. The jewel was lying covered in a case which carried an inscription: "From the court of Lahore formed by the HH Maharaja Runjeet Singh and lastly worn by her Highness the Late Maharanee Jeddan Kower."
The rare necklace which carries an immense historical and emotional value, particularly, for the Sikhs and Punjabis the world over, was part of the vast collection of Maharaja Ranjit Singh and his wife Maharani Jindan. It was "usurped" by the British troops which had wrested control of the Lahore Durbar between 1849 and 1850.
The British were also in possession of the Kohinoor diamond and Timur Ruby that were "gifted" to Queen Victoria by the then British authorities. Later, the necklace turned out to be the part of a rare jewel collection which, was sold by London-based Frazer and Hawes. Maharani Jindan was born in Chahar in Sialkot in undivided Punjab to Manna Singh Aulakh, a royal kennel keeper at the court of Lahore. She grew into a majestic beauty and attracted Maharaja Ranjit Singh, who made her his 17th queen.
SIKH NUGGET EXTRA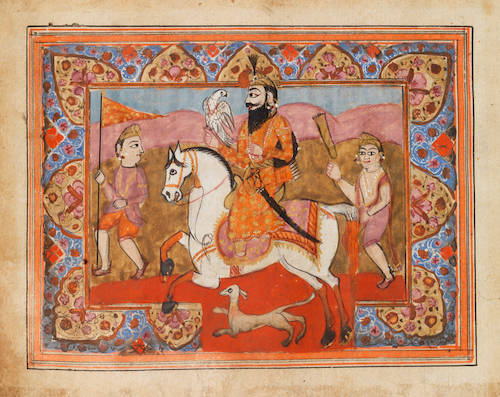 Historical Sikh Prayer pothi sold for £3,360
Click
here
fore more details of this pothi