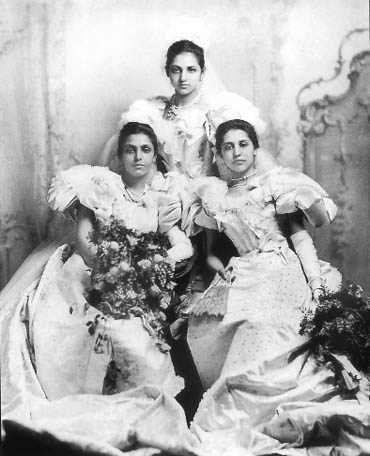 The Princess who died unknown,
Tribune India, Sunday, September 20, 2009

Three sister Princesses — Bamba, Catherine and Sophia — photographed in 1892. Princess Bamba is sitting on left side holding flowers
Princess Bamba Sutherland, eldest daughter of Maharaja Daleep Singh, lived like an alien in her father's kingdom, writes
Kanwarjit Singh Kang
"If man were immortal he could be perfectly sure of seeing the day when everything in which he had trusted should betray his trust, and, in short, of coming eventually to hopeless misery. He would break down, at last, as every good fortune, as every dynasty, as every civilisation does. In place of this we have death."
THIS observation by Charles Sanders Peirce reminds one of the tragic drama that unfolded after Maharaja Ranjit Singh's death, followed by assassinations, conspiracies, treacheries, betrayals and wars, and the vicissitudes of his dynasty, as had happened, dwindled from bad to worse.
The last of the survivors of the Maharaja's family, Princess Bamba Sutherland, who lived like an alien in Lahore, the capital of the kingdom of her father and grandfather, quietly slipped into its soil on March 10, 1957, almost unknown and unwept. The UK Deputy Commissioner organised a sparse funeral and, unfortunately, due to the sensitive relations between India and Pakistan, no Sikh was present.
Princess Bamba Sutherland, the eldest daughter of Maharaja Daleep Singh, was born on September 29, 1869, in London. She was baptised Bamba Sofia Jindan Daleep Singh, named after her mother and grandmothers' respectively.
When she was planning to visit India for the first time, she gave an advertisement in a local paper, inviting applications from a lady with cultural interests and musical background, who would like to accompany her on a visit to India. Marie Antoninette, a Hungarian of noble descent, applied and was accepted. Both came to India and lived at Lahore and Shimla. In the company of the Princess, Marie Antoninette met Umrao Singh Sher-Gil and this acquaintance led to their marriage and they left together for Budapest where their first child Amrita Sher-Gil, the most innovative painter of modern India, was born.
Henceforth, Princess Bamba visited India frequently and finally settled at Lahore. She purchased a house in the posh locality of Model Town and named it 'Gulzar' where she had an exclusive garden of roses spread on an area of one kanal. Here she married Dr David Waters Sutherland who was Principal of the King Edward Medical College, Lahore (now Medical University).
When Maharaja Daleep Singh was not allowed to take her mother's dead body from England to Punjab for cremation, he had to do this last ceremony at Nasik in Mumbai where a small samadh was built over her ashes. To fulfil the last wish of her grandmother Maharani Jindan, Princess Bamba dug out ashes from her samadh and deposited these in the samadh of Maharaja Ranjit Singh at Lahore.
She had inherited a vast collection of paintings, art objects, historical documents and royal orders from her father and kept these in safe custody at Lahore. To understand the significance of these documents, mostly written in Persian, she placed an advertisement in a newspaper for hiring a suitable scholar and selected Pir Karim Bakhsh Supra for this job. Supra was well versed in Persian, Arabic and English. Soon her relationship with her teacher became full of respect and trust.
She bequeathed her collection of paintings and art objects to Pir Karim Bakhsh Supra, who, after her death, sold these to the Government of Pakistan. The collection, consisting of 18 oil paintings, 14 water colours, 22 ivory paintings, 17 photographs, 10 metallic objects and seven miscellaneous articles, are known as 'The Princess Bamba Collection'.
These are now in the custody of the Department of Archaeology, Government of Pakistan, for preservation as a national asset. The collection is of immense historical significance as it throws light on the life and time of the Sikh Darbar in Lahore and of the artistic taste of Sikh royalty during the mid-19th century Punjab.
Her husband Dr Sutherland died in 1939 and without offspring she was all alone. Her brothers and sisters had already died. Although she was still cherishing the golden age of her house, she was fully aware of the ultimate reality of life, as is apparent from a Persian distich inscribed on her gravestone, which, perhaps, she had herself desired to be engraved at her last resting-place:
Farq-i-shahi o bandagi barkhast
Choon qaza-e navishta aayad pish
Gar kisi khak-i murda baz kunad
Na shanasad tavangar az darvish.
Its translation into the English language by Dr Mazhar Saleem of Lahore, is as under:
The difference between royalty and servility vanishes
The moment the writing of destiny is encountered
If one opens the grave of a dead
None would be able to discern rich from poor.
Located in Gora Kabristan on Jail Road, Lahore, her grave remains decked with flowers brought by the descendants of Pir Karim Bakhsh Supra from 'Gulzar', Model Town, Lahore, the residence of late Princess Bamba Sutherland.