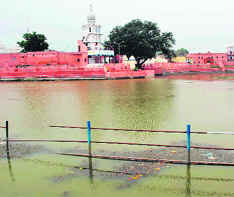 Kapal Mochan in a state of neglect
Kiran Deep, Tribune News Service, (Kapal Mochan) Yamunanagar September 10
Kapal Mochan, the place of religious sanctity and historical value, which symbolises the unity and integrity of people of different classes, castes and religion, is in a state of neglect.
Lakhs of devotees throng this place because of its religious sanctity as Lord Shiva, Lord Rama, Lord Krishna, Guru Nanak Dev and Guru Gobind Singh are believed to have visited Kapal Mochan. The famous three-day fair is held on Kartik Purnima every year at Kapal Mochan in Bilaspur, which is situated about 25 km from here.
Pilgrims, mostly Hindus and Sikhs, visit here especially on Kartik Purnima, as it is believed that after taking a holy dip in the three sarovars, namely Kapal Mochan, Rin Mochan, Surya Kund, people can get rid of their sins.
However, all sarovars are in a state of apathy. They lack regular source of water and insanitary conditions prevail all around. Besides algae, plastics and other waste materials at the corners of the sarovars also disappoint the pilgrims. Besides it, the place also lacks proper arrangements for the stay of the pilgrims and also proper maintenance of the area around the place.
Meanwhile, the Union Ministry of Tourism has accepted a project of the district administration for the development of this place. However, the expansion and progress of the area will only be done after the release of funds by the ministry.
"To make Kapal Mochan a pilgrim centre, maintaining its religious and cultural images and providing a better and sustainable environmental to the pilgrims, we have proposed a more than Rs 10-crore development project to the ministry," said deputy commissioner Amit Kumar Agarwal.
Giving details, Amit said the district administration had adopted a development plan to achieve its motto of creating a religious centre known for its spiritual content.
"After getting the funds, we have decided to widen and strengthen the internal roads near ghats at Kapal Mochan. Besides it, we have also decided to install railings and lay Agra Red stone all over Suraj Kund and Kapal Mochan. Besides, the construction of an administrative block, near the museum, musical lights surrounding Kapal Mochan and Rin Mochan, recycling plants in all ghats and development of the museum for providing modern recreational facilities to the pilgrims is also on the cards," he further added.